Please note: This page may contain affiliate links. If you buy a product or service through such a link we earn a commission at no additional cost to you.
ZenBusiness Review: Choosing the best LLC service is the 1st step toward building an empire. And ZenBusiness has proven itself as one of the best (most legit) out of dozens available. Really?
Formation Services
Key Features
Value
Learn More

The Best Overall Formation Service

Free registered agent service for a Year.
Only pay for what you need.
Quick turnaround option available.
Start an LLC Online Today with ZenBusiness ($0)
Select Your State Below to Start an LLC for $0 + the State Fees
Quick Overview of Prices & Features: ZenBusiness LLC Services
| Package | Price | Key Features | Rating | Ease of Use | Registered Agent Service | Additional Add-on Services |
| --- | --- | --- | --- | --- | --- | --- |
| Starter | $0 + state fee | Name Availability Search, Articles of Organization, Registered Agent Service (1st year), LLC Operating Agreement, Free Accounting Consultation, Virtual Business Guide | 4.5/5 | Excellent | 1st year free, then $119/year | Standalone registered agent: $99, Annual report filing: $75, EIN filing: $70, Business bank account: $110 annually, Domain name registration: $25 annually |
| Pro | $199 + state fee | Includes Starter package, Banking Resolution Template, Worry-Free Compliance, EIN, Expedited Filing Speed (1-2 weeks) | 4.8/5 | Excellent | Included | Expedited filing speed: $50, Business license report: $99, Business document template library: $99, Banking resolution templates: $30, Business Website: $100 annually |
| Premium | $299 + state fee | Includes Pro package, Rush Filing Speed (3-5 business days), Business Website, Domain Name Registration, Domain Name Privacy, Business Email Address | 5.0/5 | Excellent | Included | Rushed filing speed: $100, Filing amendment: $100, Certification of good standing: $75, Worry-Free Compliance services: $119 annually |
| | | | | | | Visit ZenBusiness.com |
Please note that the prices mentioned are for the base packages, and additional costs may apply depending on the services selected. The ratings are based on customer feedback and reviews, but individual experiences may vary. The table also includes some of the most popular additional add-on services available with ZenBusiness.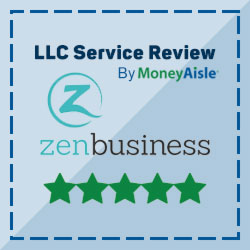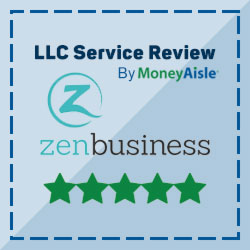 We know you have a lot to deal with. So why pile up your back with the extra burden, when we're here to review Zenbusiness LLC formation service for you? Read this ZenBusiness review to find out if this online formation service is the right one to help start your own business.
ZenBusiness is one of the best LLC services available online that helps you file your LLC legal document seamlessly. Yes, ZenBusiness LLC's service has made its worth in a few years and earned a place in elite LLC formation companies.
This top-rated filing company was featured in 2015 in Texas. Since then, it has earned the trust of millions of customers. Since the onset of the COVID pandemic alone, Zenbusiness has helped more than 100,000 micro & small businesses formed through their platform.
What makes Zenbusiness LLC get that high volume of customers? What special services does ZenBusiness offer? And what makes it the most legit filing service? Well! This is what we are going to discuss in detail. So, stay with us till the end to find out why ZenBusiness is worth a try.
ZenBusiness LLC Service Review (Overview)
In this detailed ZenBusiness review, we subjected ZenBusiness to our 6-point litmus test to review a formation service and outlined anything and everything you need to know about this service.
We will guide you through their LLC services' pros/cons, pricing/packages, add-on features, discount offers, and much more so you can decide if it's best for you or otherwise.
Pros and Cons Of ZenBusiness LLC Service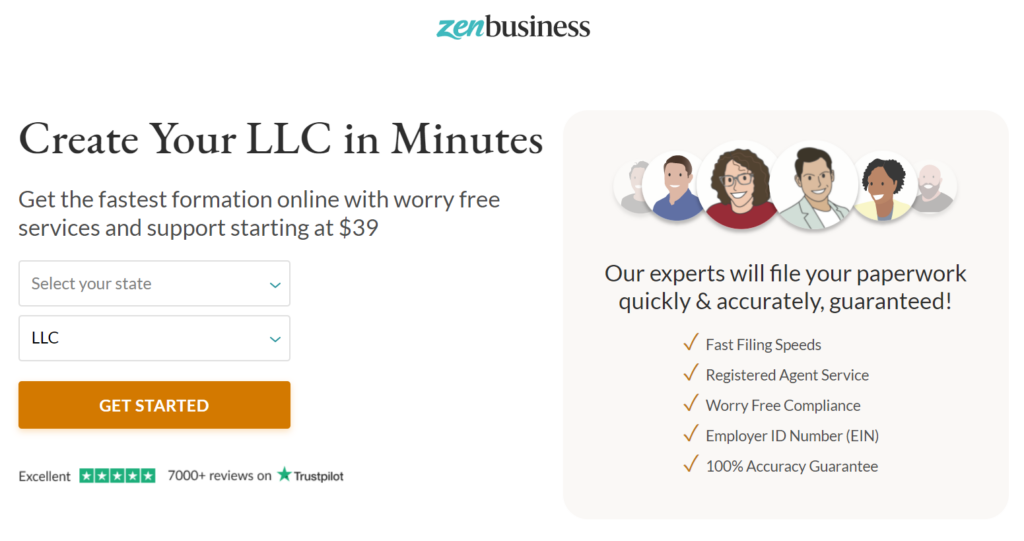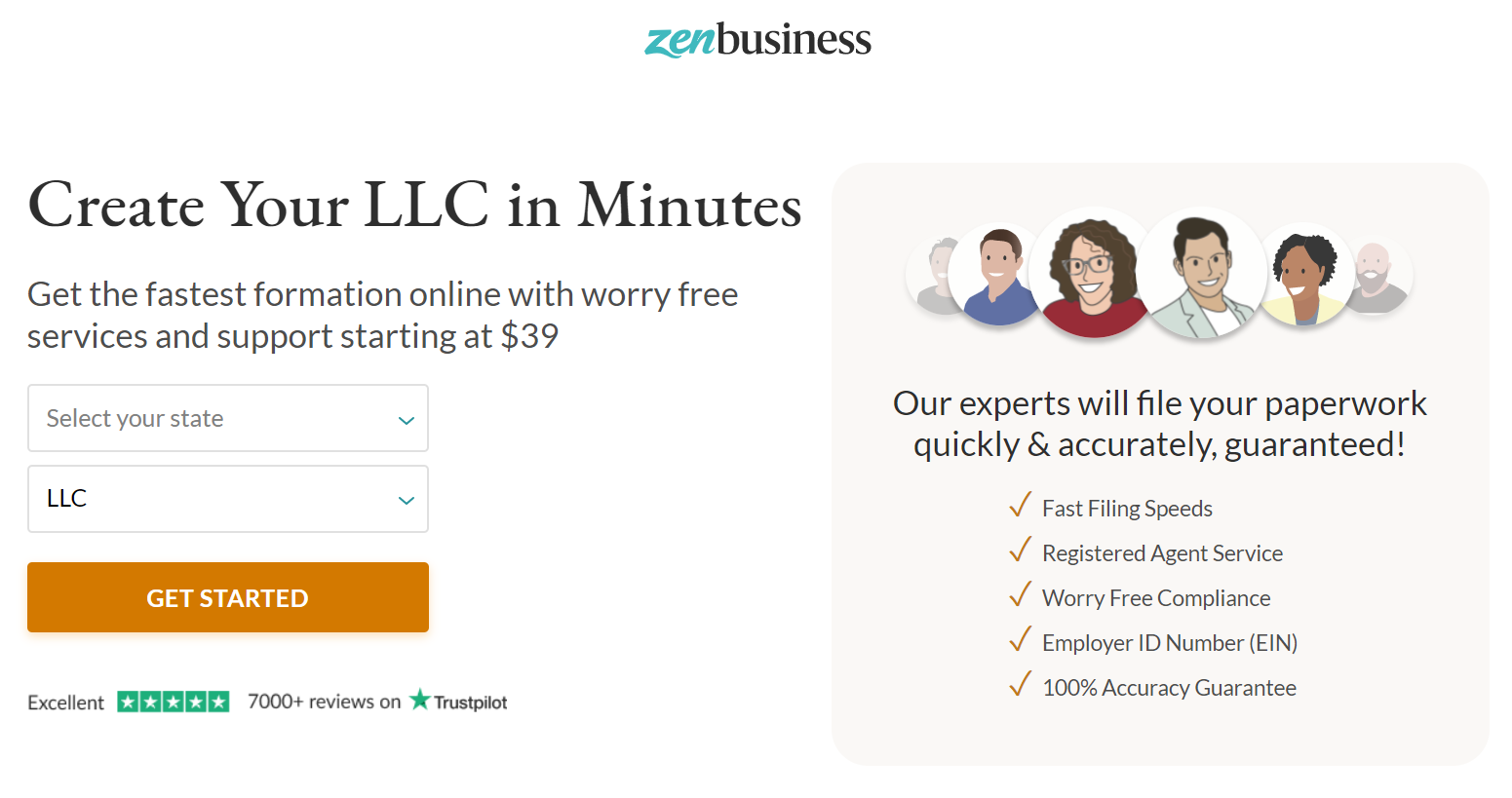 ZenBusiness Pros
1. Approachable LLC Formation
Customers find ZenBusiness easily approachable and no-nonsense when it comes to the complete LLC formation process on their website.
Unlike many other LLC companies that start to bombard upsells as soon as you sign up with them, ZenBusiness avoids that. Instead, it only displays the best additional services and features; hence navigation on their website while filing LLC is not troublesome at all.
2. Thousands of Positive Reviews
The positive client feedback has given much strength to the company in recent times. ZenBusiness holds thousands of reviews, of which the maximum is positive.
3. Affordable LLC Service
Being one of the most affordable LLC services, ZenBusiness starts at just $0. However, when you compare it with an established company LegalZoom, it is $60 cheaper than attracts most customers.
In these $0, ZenBusiness offers all that you want and none you don't, including a risk-free consultation program within their private CPAs and registered agent services, etc.
4. Worry-Free Compliance
ZenBusiness doesn't leave you alone after your LLC formation. They make sure your business keeps running and thriving without any glitches. Therefore, Zenbusiness offers a Worry-Free Compliance feature in its Pro and Premium package. 
This feature helps customers initiate and manage their new business by taking good care of their annual report filing and assisting them to stay compliant with state requirements.
5. 100% Accuracy Guarantee and Refundable Purchases
Zenbusiness offers a 100% Accuracy Guarantee with all 3 packages. In case you did not like any service, all purchases are refundable. However, refund requests are entertained before the LLC has been filed with the state.
6. Socially Committed Organization
Zenbusiness Inc. is a socially committed organization registered as a Public Benefit Corporation (PBC).
The top online filing service is committed to empowering women-owned and minority-owned businesses to grow and thrive by lending them interest-free loans through its social mission.
ZenBusiness partnered with Kiva.org, a non-profit organization, on the Pay-It-Forward project to extend its foundational mission to lend interest-free financial loans to people in need. This step helped women and boosted small businesses above the ground.
ZenBusiness Cons
1. No EIN in the basic package
Even though ZenBusiness gets you an Employer Identification Number (EIN) if you sign up with their Pro and Premium package, there is no such service available with the basic package. You have to pay an extra $70 for this service.
However, if you are tight on budget, you can file for your EIN with the Internal Revenue Service (IRS) for free by following Moneyaisle's DIY Guide on How to Apply for EIN.
Key Features
Formation Services
Key Features
Value
Learn More

The Best Overall Formation Service

Free registered agent service for a Year.
Only pay for what you need.
Quick turnaround option available.
Pricing & Packages
ZenBusiness offers you three distinct packages that you can choose and incorporate online.
Starter Package
Pro Package
Premium Package
We will briefly discuss the difference between these packages, their essential features, and how an entrepreneur can relate to the corresponding LLC service.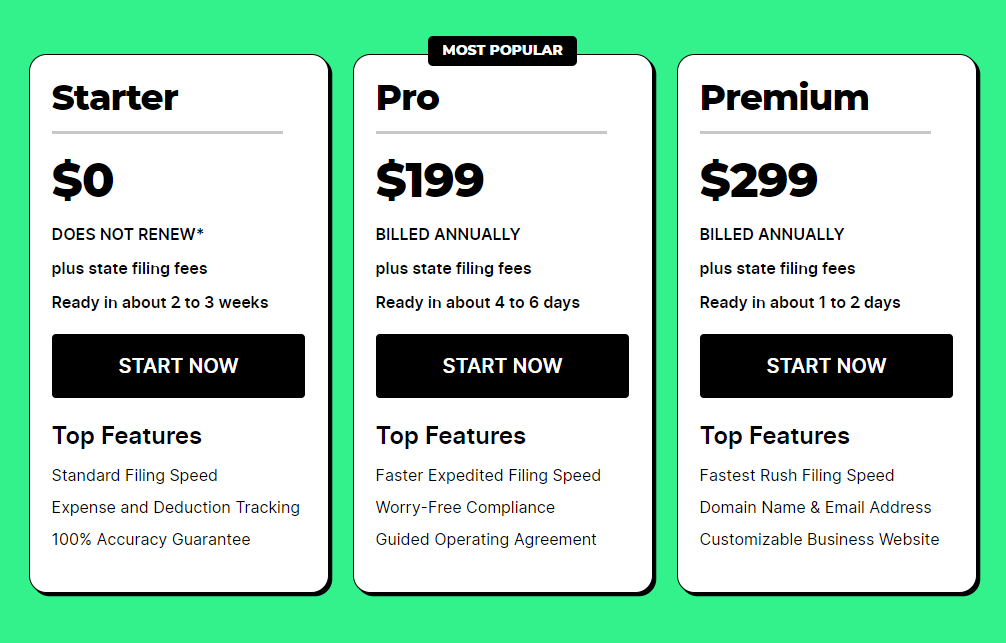 1. ZenBusiness Starter Package ($0 + State Fee)
ZenBusiness offers the most comprehensive services in their basic package (for just $0 plus state fee) that every start-up needs. Here is what you get with the basic package;
Name Availability Search
ZenBusiness initially noses around your business information in your respective state to analyze if the business name you wish to take is available or is already acquired by another organization.
Preparing & Filing the Articles of Organization
The articles of organization for your company are filed with the state and county in which it is headquartered. They're crucial documents that determine how you'll be run, so make sure they're up-to-date!
ZenBusiness prepares your Articles of Organization, processes them with state-specific requirements, and files your LLC with the state.
Registered Agent Service
Most of the states in the USA require legal business entities to have registered agents. A registered agent is a person or a professional entity responsible for receiving important legal documents, a notice of lawsuits, tax forms, and official government correspondence on behalf of your business.
Even though you can be your registered agent and use your personal address for this purpose, most entrepreneurs get the best-registered agent service to avoid making their addresses public or save themselves from plenty of spam and junk mail.
ZenBusiness initially offers a 12-month free subscription with the basic package. After that, you have a renewal option at $119 per annum after the first year. For more detail, you can read our complete analysis of ZenBusiness registered agent service review!
LLC Operating Agreement
An Operating Agreement is a legal document. It outlines the working and financial relationships among LLC members/owners, sketches the LLC's daily operations, and has prewritten rules for conflict settlement, or how a member will leave the LLC by choice or what happens if a member is deemed unfit.
Most states require your LLC to adopt an Operating Agreement. ZenBusiness offers an adaptive template with its basic package that assists you in establishing an operating agreement on your own. This saves you from heavy attorney's fees.
Free Accounting Consultation
Every business owner needs accounting services to run and grow one's business. That includes tracking and paying invoices, filing taxes, managing your books, and more.
All ZenBusiness offers its customers free accounting and tax assessment from authorized CPAs to determine their tax needs, bookkeeping, accounting, etc.
Virtual Business Guide
Zenbusiness foresees the worth of business in the online world. And to acknowledge your online presence of business offer a virtual business guide with a basic checklist of everything you need to run your business virtually with helpful tools and advice to market your business online.
2. ZenBusiness Pro Package ($199 + State Fee)
The Pro package is the best package purchased by many customers these days. It encompasses all of the features of the Starter plan in addition to the following:
Offers Banking Resolution Template
A banking resolution is the easiest way to authorize someone to open and access the company's bank account. It provides signatures for the business. This document is created by the members of an LLC or the board of directors for a corporation.
Provides Worry-Free Compliance
ZenBusiness takes good care of its clients to keep their business in an optimized position by offering Worry-Free Compliance. This feature involves filing and managing a company's yearly report with the option of amendments twice a year. It also helps your business stay compliant with state requirements.
Moreover, if you skip the closing date with your state, ZenBusiness will always help you recover your standing position.
Provides an Employer Identification Number (EIN)
Just like the Social Security Number, EIN (also known as a Tax ID Number, ad Employer ID Number) is a nine-digit code for identifying your business entity. It allows your LLC to create business bank accounts, file taxes, hire staff, and much more.
On ZenBusiness, you can price this service separately and get it for just $70. However, the Pro Package on ZenBusienss provides you with an EIN for free.
In case you do not have a social security number or taxpayer ID number, ZenBusiness will prepare and digitally file your EIN with the IRS, you have to personally mail or fax in your completed forms to receive your EIN.
Expedite filing speed
With the ZenBusiness pro package, the customers get their LLC filed in 1 to 2 weeks. That is a very acceptable filing speed compared to other services. If the time is not running out for you, and you're not in rush, this speed is very reasonable for you.
3. ZenBusiness Premium Package ($299 + State Fee)
ZenBusiness' Premium package covers everything from the Pro package plus the following at affordable prices;
Rush Filing Speed
This feature will enable the users of the premium package to get their LLC filed in 3 to 5 business days. You'll hardly find any match of that filing speed except a few like BetterLegal and LegalZoom.
Business Website
Online presence positively impacts small business owners and adds credibility to the company. A web page offers an easy and effective way to promote your product or service, share your story, and provide easy ways for people to contact you.
ZenBusiness creates your business webpage that is easily editable, built to sync with your domain name, and formatted to look great on any device. You can register a Domain Name normally for $25.
Domain Name Registration
A business domain name is a unique name claimed through a domain registrar to represent a company online. ZenBusiness gets a specific domain name for your business website and covers up the domain dashboard tool to keep the privacy of your business.
Domain Name Privacy
In this feature, ZenBusiness provides a domain privacy shield that protects your contact information (name, address, phone number, etc.) from being publicly available. This feature also offers Spam & Scams prevention and limits Solicitations.
Business Email Address
ZenBusiness also provides a business email address to the user, with enough storage space of 5GB.
La Carte Option: ZenBusiness's Additional Services
Every business is unique with its personalized needs and endorses services that entertain a business's special requirements. ZenBusiness is one of such LLC formation services that offer a la carte options where you can mix and match the services of your choice and needs.
Here is what ZenBusiness offers in this regard;
Worry-Free Compliance at $119/year
With this feature, the organization will handle your yearly reports and keep an eye on all of your filing closing dates to maintain your business position, along with two amendments per year. The amendments alone are worth $250, so it is wise to take this package.
Publication Service for $200
Many states, such as New York, require you to publish your business formation in the newspaper and get a certificate of publication.
ZenBusiness holds a good position in handling the entire publication process for your LLC's formation. However, this fee is in addition to the publication cost.
Amendments at $100
ZenBusiness provides a great opportunity to change your articles of organization. So if you want to make essential changes, they will help you through the process.
You can purchase the Worry-Free Compliance package, which gives you the option of two amendments per year
Federal Tax ID Number at $70
Like an SSN, the Federal Tax ID or EIN Number is a nine-digit code provided in the ZenBusiness Pro package that looks after your LLC services, including your bank accounts, hiring employees, etc.
Certificate of Good Standing for $75
A certificate of Good Standing (also known as a Certificate of Authorization or a Certificate of Existence) proves that your business is compliant with all state regulations.
The state issues the document, and this certificate shows that you've taken all necessary precautions to maintain compliance with state laws. Here, ZenBusiness can help you with procuring this certificate for just $75, and your business up and running.
Registered Agent Service at $99 or $149/ year
If you get a registered agent service from ZenBusiness as a standalone feature, you are provided with two options;
The $99 option: Online document storage only.
The $149 option: Online document storage, a Worry-Free Compliance typically costs $119 per year on its own.
Operating Agreement Template at $35
An operating agreement is an important legal document that outlines your LLC's day-to-day operation and the roles and rights of members. However, we do not recommend this service by ZenBusiness as you can easily find such drafts for free on different online platforms.
Paying $35 isn't worth it unless you don't have time to find such free forms. All you would have to do is fill it in with your company's details and ensure that it matches your firm's information.
Expedited or Rush Processing for $50-100
If you sign up for the basic package and want your LLC filed faster, you can choose
Expedited option for $50: Turnaround 1 to 2 weeks
Rush filing option for $100: Turnaround 3 to 5 business days
This is a great feature for those who are not willing to pay for a pro or premium package.
Banking Resolution for $30
Banking services are critical to the success of any company. Whereas a Banking Resolution is a document to get banking services.
A banking resolution authorizes LLC members to open an account, access loans, get proper financing, and do much more on their own in LLC's name. You can get an EIN free from the IRS, which can work in place of a Banking Resolution.
If you want to complete the resolution quickly and set up your financial structure easily, ZenBusiness can help you with this service for just $30.
Business Domain Name Registration for $25/year
Today, in an increasingly digital world, having a website is one of the most significant needs of a business. Failure to do so will put your company at risk of losing customers and business over time.
Although you can register a domain at a reasonable price with any well-known registrar separately, ZenBusiness also offers this service. By availing this service from ZenBusiness helps you keep things up with the same company to manage issues easier.
You can register your own domain name with ZenBusiness at a competent market price. Pay $25 annually to register a domain name with ZenBusiness.
Annual Reports for $75
This service is included in the Worry-Free Compliance package, but you can save some money by getting the annual reports service alone if you do not want amendments. This service costs just $75 with ZenBusiness. However, if you go for DIY in an LLC formation, the annual fee varies by state.
Google Ads Credit for $150
If you spend up to $150 in your first 30 days of incorporation with any of ZenBusiness packages as a Google Ads customer, ZenBusiness provides a code that offers matching funds for each buck you have spent.
Business Email Address for $25/year
Just like a website and domain name, having an email address for your business is essential. You cannot run a legit business without an email address. ZenBusiness provides a secure business email address with 5 GB of storage for just $25 a year.
Customizable Business Website for $100/year
Developing a professional website is a very costly thing to cater to whether you hire a 3rd party service or a freelance developer. And keep it up to date, or with little customization from time to time even mosts more.
Zenbusiness has solved this problem at amazingly affordable prices. ZenBusiness offers customizable templates for your website for just $100 a year.
Those who know about development charges can realize that the price is just like having this service for free. ZenBusiness can help you create a modern, highly responsive site for your customers. You can also edit the website at your convenience anytime.
It is one of the most special additional services by ZenBusiness for Medium to large businesses that are looking to improve their business credibility and help to promote their product or services.
Business License Report for $99
This feature helps you list all the licenses and permits that your business needs to operate in compliance with a federal, specific state, and local counties. Unfortunately, ZenBusiness only gives you the list, and you have to apply yourself.
Business Document Templates for $100
Receive access to 25+ templates so you can create contracts, waivers, and more. However, we do not recommend this feature as you can find such templates for free on online platforms.
Business Bank Account for $110/year
ZenBusiness provides you access to your LLC bank account. Simply, go to a bank and open an account for free, and don't waste money here.
Business Name Reservation for $50
If you're still planning for your LLC and not ready to form one yet, ZenBusiness offers you a desired business name reservation with your intended state for $50 plus the state fee. However, if necessary, do it on your own as the process is quite simple and easy.
ZenBusiness Customer Reviews, Testimonials & Feedback

Within a short period of five years, this Texas-based company has attained a good reputation. They have thousands of positive reviews available online on reputable sites such as Trustpilot, BBB, Google business, etc.
You can find out more about good ZenBusiness reviews on BBB, Reddit, and Trustpilot. However, here we are only presenting you a few taken from Trustpilot. These customers get the LLC services from ZenBusiness and are very satisfied.
Reviews
Overall great experience and very timely,
Easy to use and quick turnaround time!
Awesome service. And extremely fast.
Zen business got it done in less than 3 days. Great job, I'm a happy customer.
Easy and straightforward. I highly recommend their services.
I'm happy with the efficiency and comprehensiveness of the services that ZenBusiness provided. Will definitely recommend it to my friends and colleagues.
I took their LLC service for the first time and was extremely satisfied with them. The company offers very affordable prices and are highly professional with their work. Along with fully satisfying me, they finished my order faster than I expected. I would highly recommend ZenBusiness if you are looking forward to starting a new business.
ZenBusiness has been kind to my business from the start till the end. I was a bit worried initially checking their low rates, but they are always available online to help customers with their queries. They answered me immediately and whenever I wanted. The entire process was so simple and easy to use. I would definitely recommend them and will use the LLC service again.
Throughout the whole process, ZenBusiness and its settings were super kinds to me. They have provided all of the instructions online on their portal, and it was so easy to fill in the details. Starting a business with Zen was the best decision I ever made. Would definitely refer this LLC service to others.
I used to think this was unrealistic, but it's a genuine LLC service. I was so astounded to see how simple ZenBusiness made the way toward turning into an LLC. Despite offering a lot of additional features, they never force a client to buy them. Moreover, it's such a pleasant gesture of getting everything assembled in a dashboard on the website. It was super easy for me to make changes or receive an EIN whenever I want. Highly recommended!
On TrustPilot, ZenBusiness has received an average of 4.8/5 stars from 6,664+ reviews. Maintaining a 4.8 average rating with over 6k+ reviews is quite extraordinary.
You can see that overall, ZenBusiness' customers are quite pleased with the efficiency of their services, as well as the ease of use to form an LLC. That is why, in our view, ZenBusiness is the most legit, reliable, and trustworthy LLC formation service available online.
ZenBusiness Review Ratings (Our Opinion)
Rating 4.9
· Reviewed by MoneyAisle
---
Other than the customer reviews, we subject all LLC formation companies to its 6-point review litmus test. Here is how ZenBusiness scored;
Rating by Registered Agent Service: 4.7/5
All three packages of ZenBusiness Starter, Pro, and Premium include the free registered agent service for the first year of incorporation with them.
These agents are responsible for providing a complete process guideline and help by receiving essential documentation or notices from lawsuits, taxes, and other official records relating to your business.
Rating by Company Reputation: 4.6/5
ZenBusiness is relatively new in business compared to a few industrial giants. However, since 2015 when ZenBusiness stepped into the LLC formation service industry for the first time, it has given cutthroat competition to those industrial giants and earned its place among top-ranked LLC services.
Rating by Cost Value: 4.9/5
ZenBusiness always preferred its customers and wisely introduced LLC formation packages for all types of businesses.
Compared with all other LLC services in the market, ZenBusiness has proved to be the one providing the most comprehensive services at a considerably cheaper rate. Moreover, the La-Carte option enables customers to buy according to their needs.
Rating by Customer Feedback & Complaints: 4.7/5
ZenBusiness has got thousands of positive customer reviews on third-party platforms. You can find all the ZenBusiness reviews online where entrepreneurs, startups, and small business owners rave about quality customer support during the business formation process.
Better Business Bureau®
On BBB, ZenBusiness has been accredited as A. It closed 38 complaints (see ZenBusiness complaints on BBB) in the last 4 years and closed 19 complaints in the last 12 months.
Trustpilot
On Trustpilot, ZenBusiness has gotten 7,620 reviews and a 4.8/5 rating with 87% excellent reviews.
Rating by Ease of Formation/User Experience: 4.6/5
The website is user-friendly and the formation process by ZenBusiness is very smooth and easy to go.
They have a dashboard tool consisting of all the essential information for a customer. You can get access to and track your progress report through this tool. Moreover, ZenBusiness does not walk you through tons of upsells during the filing process; hence, customers navigate easily from one step to another.
How to Login ZenBusiness: Login Page Guide
How to access your account and manage it? You just need to:
Visit the website www.zenbusiness.com.
Find the login page or click on "LOGIN" button.
Enter your credentials and manage your online.
ZenBusiness Contact Information
5511 Parkcrest Dr Ste 207 Austin, TX 78731-4937
ZenBusiness Offers Special Discounts
Along with providing excellent and distinctive features such as Free Registered Agent, Free CPA Consultation, Free Operating Agreement template, and more, ZenBusiness also offers special discounts. This offer makes it stand as the best and most highly accessible LLC service.
Best Alternative of ZenBusiness – Is LegalZoom a Good Option?
If you are searching for an equivalent competitor to ZenBusiness, LegalZoom is the best option to consider after Incfile and or Northwest Registered Agent. You can also read the detailed comparison of LegalZoom vs ZenBusiness for your satisfaction but let's go through the topic below.
Being an old industry and working since 1999, LegalZoom has helped to initiate more than two million businesses. Even though ZenBusiness took over the place in a short duration, LegalZoom still has the experience benefit.
Other than the business formation facilities, the organization provides personal legal services and documentation. So, if you are seeking personalized legal services while forming your new business, LegalZoom will be the best option.
Customers avail themselves of the LegalZoom LLC services if they prefer experience and brand image over anything.
Starts: ($99)
LegalZoom
The Most Famous
ZenBusiness vs LLC Other Services
ZenBusiness is not the only LLC company Com, there are also some other known names such as Legalzoom CorpNet, MyCorporation, Incfile, Northwest, BetterLegal, etc. All of these companies offer a wide variety of services to help with the organization and management of your, but ZenBusiness LLC seems to be the most popular.
However, you can compare Zenbusiness with other companies from the links given below.
Final Verdict
All in all, ZenBusiness has proved to be the best choice for entrepreneurs and business owners who demand a premium LLC service, top-notch customer support, and registered agent service within a reasonable price range.
ZenBusiness is also a great deal for small business owners wanting to get the latest reminders and alerts about filing deadlines. So, to get a worry-free service for your new business, immediately grab your hands on the packages offered by ZenBusiness.
Frequently Asked Questions (FAQs)
Can I form an LLC by myself?
Anyone who has time can form an LLC. You can learn to form an LLC by yourself simply by selecting the State you're from in another guide article specially written for the purpose. However, we recommend hiring a service so you can focus on other business issues.
Is ZenBusiness a legit LLC service?
If you need a short answer, yes, Zenbusiness is legit and the most reliable LLC service out there. Although Zenbusiness is a relatively newer company – founded in 2015 – yet this online business service has already formed thousands of businesses, many in the queue.
The remarkable customer feedback (rating of 4.8/5) is also one of the reasons that Zenbusiness is one of the most legitimate business formation services.
Is ZenBusiness a good option for any startup?
Zenbusiness has all the LLC essentials that entrepreneurs need to start and succeed. Therefore, Zenbusiness is not good, but the best option for any startup.
Is ZenBusiness good for a small business?
ZenBusiness is one of the best LLC and Incorporation services for small businesses. However, Swyft Filings is famous for helping thousands of small business owners to successfully form corporations or LLCs for their businesses.
How does ZenBusiness compare to other LLC services?
Zenbusiness is actually one of the most favorite LLC formation services of all. In the overall category, it is the best. However, if any startup or entrepreneur needs any specific need for their business, other legit LLC services may count.
For your help, we've compared Zenbusiness with some of the other loved services below.
Can I form an LLC by myself?
Anyone who has time can form an LLC. You can learn to form an LLC by yourself simply by selecting the State you're from in another guide article specially written for the purpose. However, we recommend hiring a service so you can focus on other business issues.
How quickly does ZenBusiness process LLC formations?
The ZenBusiness LLC processing speeds are based on a combination of state capabilities, and which level of package you order. However, overall, Zenbusiness has a decent formation and filing speed (turnaround time) and response time.
How much does ZenBusiness cost for an LLC?
ZenBusiness offers the best prices in its industry. LLC formation costs as little as $0 for most business owners, and we recommend this plan if you're looking to start your own company with ease!
Which package is best for ZenBusiness?
The ZenBusiness Pro plan is perfect for any startup that wants to get the business up and running as quickly, efficiently, and professionally as possible.
Do I need ZenBusiness annually?
Companies are required by law to appoint and maintain a registered agent in order to receive legal correspondence. By any means, you just need a registered agent, even if you form an LLC by yourself. ZenBusiness is one of the few companies that offer free registered agents in their annual LLC package for a year. That is why we would recommend you hire ZenBusiness annually.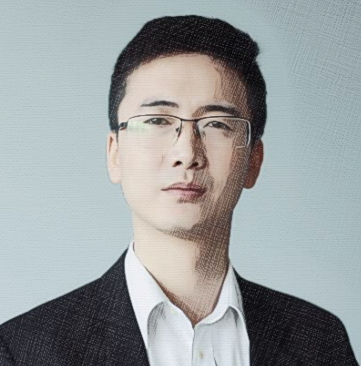 Alfie Wilson, Esq., is a legal content writer with expertise in business formation, criminal law, veterans disability, family law, DUI law, personal injury, animal welfare, and legal writing. He holds a J.D. from Emory University School of Law and has experience in appellate advocacy and regulatory matters. Alfie's passion lies in breaking down complex legal topics for a non-lawyer audience. He currently writes for law firms and non-profits on various issues and resides in Arlington, Virginia.