LegalZoom Review: If you have made your mind to register your business as an LLC, LegalZoom could be the option. Instead of learning how to form an LLC by yourself, going for a reputable Business Formation Service Providers like LegalZoom is better.
However, there are hundreds of formation services out there, why to choose only LegalZoom then? This LegalZoom review will help you to decide.
LegalZoom LLC Services Review (Overview)
In the pursuit of filing your LLC, it is very difficult to find trusted and reliable services to file your LLC with.
Many feel confused when they see a lot of service providers in the market with their strengths and weaknesses. In this review, we will take you through one of the best LLC services available in 2022 i.e. LegalZoom.
Review
When it comes to rating, LegalZoom will always find its way among the top LLC service providers in the USA. We'll review their services in detail and compare the features that make LegalZoom stand out among its competitors.
Introduction:
LegalZoom is a web-based agency for legal services with a history of advising 4 million customers at any stage of their business formation. The company was established in 1999.
With its 1.6 million happy customers, positive reviews, and extensive advertising campaigns, LegalZoom has become one of the most recognizable brands among incorporation companies.
Hence, Legalzoom does not need any introduction.
Is LegalZoom legit? Is LegalZoom the best choice for my limited budget? Which package should I get for my LLC formation? We'll try to answer all such questions and more in this review. But first of all, let us get start with the pros and cons.
You May Also Like
Formation Services
Key Features
Value
Learn More

The Best Overall Formation Service

Free registered agent service for a Year.
Only pay for what you need.
Quick turnaround option available.

The Top-Notch Customer Care

Free account for DIY assistance.
Monthly finance is also available.
Upfront prices with no hidden charges.

The Most Famous Formation Company

Offers many other legal tasks in addition to LLC services.
A refund is available.
Fast and Easy to use.
LegalZoom Review: Pros & Cons
LegalZoom Pros
1. Most Experienced in the Field
LegalZoom has nearly 21 years of experience in the LLC formation business. They have helped millions of customers in the formation of their dream businesses.
When it comes to brand power, LegalZoom stands prominent and is second to none in terms of experience in the industry.
2. 100% Money-Back Guarentee
LegalZoom shows its confidence by providing you with a 100% moneyback guarantee on its services. In case you do not feel satisfied, you can claim all of your money back within the 60 days of the purchase of their services.
No one in this industry is that confident to give you a whole month to experience their services and guarantee a full refund of the payment.
3. Free Business name search facility
Regardless of whether you choose to be their customer or not, on their website, LegalZoom offers you to search for business name availability free of cost.
4. Customer support services availability
LegalZoom beats the customer care representative availability timings of its competitors by extending the availability timings to 10:00 pm EST on weekdays and 07:00 pm EST on weekends. So, LegalZoom customer service is available most of the times you need.
5. Additional Business Services
LegalZoom, besides providing you with the quality LLC formation services, offers other business services such as "annual report filing" services. These services attract many customers to LegalZoom LLC services.
LegalZoom Cons
1. Expensive packages
One of the drawbacks of LegalZoom LLC services is they are quite expensive in comparison to the other LLC service providers such as ZenBusiness, Inc Authority, Northwest etc.
Their basic LLC formation package cost you $99 in addition to the state fee of filing the registration of your LLC. Many in this industry provide the Cheapest LLC formation with other advanced features too.
2. Abundance of up-sells
Many find it annoying, seeing a never-ending series of up-sells. You need to go through this abundant list of upsells before you actually reach the packages page on their website.
These up-sells include a business license research package, EIN acquisition, registered agent service, a legal services subscription service, business tax software, and compliance assistance.
If you select all these up-sells, it would straightaway cost you around $1100 and mind that it does not even include state registration fee yet. That is why most of the LegalZoom negative reviews are complaining about this.
3. A moderate number of reviews
Despite the years-long experience, they have relatively less number of reviews from their customers on different 3rd party websites like TrustPilot and BBB.
However, their competitors have got a huge number of reviews available online. One the other hand LegalZoom has a mixed number of good and bad reviews available online.
4. Separate payment for registered agent services
You need to pay separately for LegalZoom registered agent service. This does not include in their LLC filing services. IncFile, on the other hand, charges you $0 for filing your LLC and gives you one-year free registered agent services.
Key Features of LegalZoom
Apart from providing you with an excellent experience of filing your LLC, LegalZoom has got some additional exciting features to offer. Let us see what are these:
1. Registered Agent Service
A registered agent is one of the most importan appointed person, that can help you during the establishment of your company.
Registered agents essentially act as your representative, and they can help you if you have dealings with courts or legal agencies. You can see the more details about a registered agent here.
LegalZoom charges you $299 annually for their registered agent services. Unlike many other LLC formation service providers, you would not get a free registered agent for the 1st year of incorporation with LegalZoom.
LegalZoom, including the district of Columbia, provides registered agent services in all 50 states of the USA. Over 1 million customers have hired LegalZoom registered agents to correspond on their behalf.
2. Operating Agreement
The LLC operating agreement is an important document that you will need for your LLC formation process to go smoothly.
LegalZoom offers you the formation of company-specific operating rules of your LLC. Their operating agreement draft and EIN filing would cost you $159 only.
3. Detailed Breakdown of pricing and added services
When it comes to filing something online, most of the people usually caught up in cluttered web pages and a series of unnecessary details.
The more streamlined an order processing step is, the more likely a customer would file its case with. In the case of LegalZoom, sometimes it takes more time to file your case since LegalZoom does not allow you to reach their package before getting through add ons.
On the other hand, webpages of LegalZoom fairly explain about each ad on and its purpose with a detailed breakdown of every service.
Mostly, customers want to go through packages 1st and then if they feel any need they want additional services.
Apparently, you may find it time-consuming but going through multiple websites in search of these additional services and comparing the prices actually more painstaking. You could have an overall idea of features, pricing and purpose of these services all at one place.
4. Fast Filing
Many small business owners tend to file their LLC on their own. But, save oneself from any hassle or fear of the consumption of a lot of time, many do for LLC formation services. What if such services come up with poor processing time? In this scenario, you would end up thinking you would have formed your LLC on your own.
LegalZoom tends to be fast in terms of turnaround period of LLC filing, especially in their Gold package. It usually takes 7-10 business days to process your order. Other packages may take up to 6 weeks.
5. Business Advisory Plan 
LegalZoom helps you to plan your business and help you go through tax-related glitches and many more.
They offer you a consultation with a lawyer over a phone call, document review, unlimited access to legal forms, business evaluation on an annual basis (In their one-year business plan only) and access to tax professionals with 25% off on the tax attorney's hourly rate for additional tax-related work.
LegalZoom charges you $36 per month in their 6-months plan and $31.25 per month on a yearly plan.
LegalZoom Packages & Prices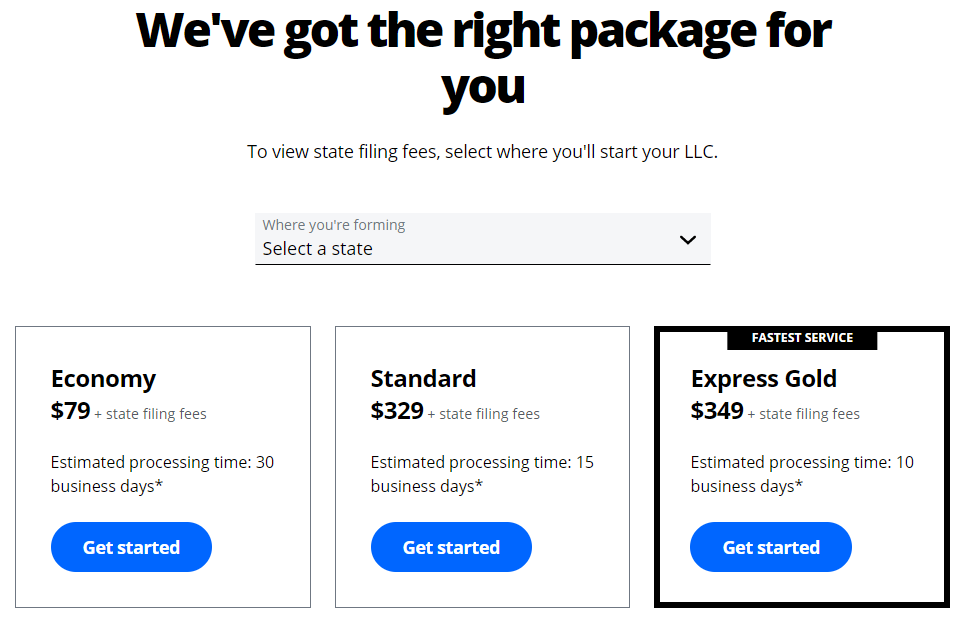 Money will always be an important factor no matter if you own a small business or have a large empire. Pricing and including features are the most important aspects that a customer carefully considers before opting for any services.
Like any other LLC service, LegalZoom comes up with three distinct plans with many additional services, and features that attract many businessmen towards LegalZoom.
LegalZoom Economy Package ( $99 + state fee)
If you are choosing to form your LLC through the economy package of LegalZoom, you should always have this time factor in mind. It will at least take 30 business days or even more in some states such as California if you opt for the economy package.
If you add state filing fee, have more than $150 in your mind within this tier of LLC formation. What else you will get:
Article of organization: This is a critical document that you need to file your LLC with the state. LegalZoom drafts this file of the article of organization and files your case with the state.
Name check and business filing: LegalZoom searches businesses databases of the concerned state and guides you whether your suggested business name is available to proceed or not.
Lifetime customer support: LegalZoom provides you with life-time customer support with flexible availability timings. (Weekdays 10:00 pm EST and on weekends 07:00 pm)
Financial account authorization letter: Through banking resolution, LegalZoom helps you acquire a business account for your LLC.
Should I take LegalZoom's Economy Package?
If you are not in a hurry to get your LLC filed before a month period and for now, just want your LLC registered without any hassle, the economy package would not be a bad choice.
LegalZoom Standard Package ($329 + state fee)
In addition to the economy features, in this package, you are going to get a corporate kit in LegalZoom's standard package. What is in the corporate kit? Let us have a look:
Customized file organizer: To organize the essential LLC documents, LegalZoom provides you with a personalized binder
Business seal: To give your LLC more official impression, you will get a company seal
Membership certificate: Twenty members customized certificates with your LLC information printed.
VIP processing: Customers with this plan treated VIP over the customers with the economy plan.
Is buying LegalZoom's standard plan good for my LLC?
If you love having customized things for your LLC and want your LLC filed earlier than a 30-days long period, go for LegalZoom's standard plan without hesitation.
LegalZoom Express Gold Package ($349 + state fee)
Many people ask if it is worth it to spend $250 more than that of an economy package and $20 more than that of a standard package when they purchase express gold packages. The answer is yes. The superfast turnover of the express gold kit is worth spending your bucks.
It typically takes 7-10 business days to process your LLC formation order. As a standard of business files and documents, LegalZoom's express gold plan includes 2 days of shipping. They offer you a discount of $7 on the next day shipping.
In express gold plan, your case is filed on state government's expedited routes which also cost your $50-$100 more in addition to the mentioned express gold fee.
So, you must have a minimum $400 budget in mind if you plan to go for LegalZoom's express gold plan. What are the salient features of express gold kit? These are:
Express shipping
Rush processing
Should I think about purchasing an express gold kit?
If you want your LLC formed as soon as possible, then go for LegalZoom's express gold plan. To be thrifty, compare the expedited plans of other online formation services like Zenbussiness.
Additional Services
1. Added Services Pricing
LegalZoom does not add features into each plan after its upgrading. Rather, it charges you separately for each feature.
Operating Agreement = $99
EIN + Operating Agreement = $159
Operating Agreement + EIN + a license search = $199
Registered agent service = $299 per annum
2. Customer Services
Online business formation services are totally virtual which sometimes make a customer feel robotic or impersonal. To put a more human touch, better quality customer services and friendly representatives play a key role.
In terms of availability, the customer care centre timings are quite an edge for LegalZoom. They assist you till 10:00 pm EST on weekdays and till 07:00 pm EST on weekends.
When it comes to reaching out to a representative, the availability is acceptable and the representative picks your call after 3 to 4 attempts.
In the case of email, you may feel disappointed since email mostly seems like a template that does not answer the exact question. Most of the time email directs you to the call centre.
Customer's Reviews and Feedback
If you are going to start your business for the 1st time and have no know-how at all about legalities and the filing process, LegalZoom would be the best choice. LegalZoom extends its effort beyond business formation. LegalZoom takes it to the next level where you receive legal help and services from it.
Business advisory plan of LegalZoom helps its customers to streamline their legal issues and tax-related problems. So, customers seeking such kinds of services are very happy with LegalZoom.
On the whole, you see mixed reviews both negative and positive. But you would not see plenty of reviews and feedback when compared to the number of customers they have served or numbers of years they have been in this business.
| | | |
| --- | --- | --- |
| Customer Reviews Website | Reviews | Overall Rating |
| SiteJabbar | 1013 | 3.6/5 |
| Better Business Bureau | 2811 | 4.3/5 |
| Consumer Affairs | 712 | 4.5/5 |
However, these ratings can not help you decide the quality of LegalZoom's LLC formtion and incorporation services since in comparison to 1.6 million customers these reviews are negligible.
Our Rating on LegalZoom
| | |
| --- | --- |
| Standard | Our Rating |
| Registered agent service | 3/5 |
| Filing Process | 3.1 |
| Costing | 3/5 |
| Ease of Use | 3.6/5 |
| Customer Service | |
We reached out to multiple services of LegalZoom and evaluated them on multiple standards on which we judged the other LLC formation services. We come up with the following results.
Rating by Registered Agent Service: 3/5
It seems quite expensive to get a registered agent service at a rate of $299/ year. The too-high price outruns the quality services, timely response and good tracking by your registered agent.
Rating by Filing: 3.1/ 5
The filing process takes longer than the usual time and takes more than a month to process your case in the basic plan. The competitors process your case relatively faster.
Rating by Cost: 3/5
In comparison to prices and included features, we found LegalZoom quite heavy on the pocket.
Rating by the Ease of Formation: 3.6/5
The entire filing process takes longer than it should take. LegalZoom website takes you through the additional services before you land on the packages they offer for LLC formation.
So either you end up tired going through every page or caught in the upsells and pay more than you should pay.
The whole process that takes 20-25 minutes on the other LLC formation services websites, here it is longer. there is no dashboard to track your progress as you have one with IncFile.
Rating by Customer Services: 3.8/5
They are quite impressive in terms of availability hours, friendly representatives, and responding to you on the phone. But when it comes to email, you will never get the exact answer to your queries.
Comparatively, ZenBusiness has better ratings according to editor's choice. You can also compare ZenBusiness vs LegalZoom services for the more profound decision.
Any Discount Offer?
If you think LegalZoom is the best fit for your requirements and you have made up your mind to go with one of the packages, there are sure some perks of reaching out to LegalZoom – the most experience business formation company. However, we do not find any discount offers as we find for ZenBusiness.
Best Alternative to LegalZoom (Comparision)
If you bother experienced company, then Northwest registered agent service has got better ratings (>4/5) in comparison to LegalZoom (<3.5/5) and pricing is also economical in case of Northwest registered agent services.
Therefore, we recommend Northwest registered agent services over LegalZoom. See a detailed Review of the NorthWest Registered Agent LLC provider before you make any decision.
Most Experienced One
LegalZoom
Overall Positive
Our Recommendation
NorthWest Registered Agent ($99)
Top LLC Service
Bottom Line on LegalZoom
If you honor the brand value and prioritize the experience and customer volume, LegalZoom is definitely right for you. But if you are price conscious, compare the prices through the best LLC services.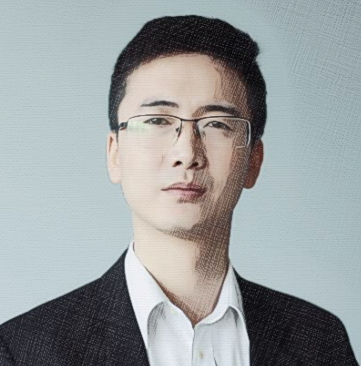 Hi, Wilson here. I'm here to help small business owners and entrepreneurs form an LLC for free and affordable prices in any of the 50 States. In my opinion, Forming an LLC shouldn't be so complicated, and I mean it. Stay with me to see how!
Please note: This page may contain affiliate links. If you buy a product or service through such a link we earn a commission at no additional cost to you.