Swyft Filings Review: Are you looking for an LLC service provider for your small business, but with the comparatively least expensive pricing model? Well, then let us introduce you to the Swyft Filings services as they can be the one you're looking for.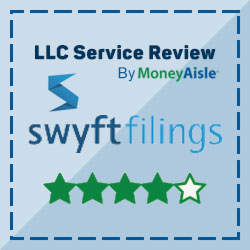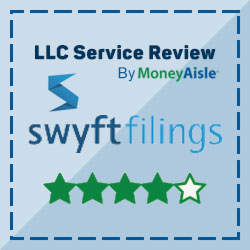 If you're thinking about starting a small to a medium-sized business entity, then there is absolutely no need to spend your precious money on hiring extravagant lawyers and companies when you can get it all done with effective yet affordable web-based LLC services providers.
Just like we've reviewed all the other LLC formation companies in our articles, today our team of experts is gonna give you an honest and detailed review of Swyft Filings, one of the trending legal services providers, so that you can make your decision on either choosing or rejecting it.
But first, let's have a look at the Quick comparison Table.
The Best Thing about Swyft Filings!
Just like all the other LLC formation companies, Swyft Filing also provides you somewhat of the same services, it can take care of the legal formation of your small business, file the important documents to state or other federal agencies and deal with all the other legal paper works for you.
Now, these are the things that all the other LLC formation companies provide too, so there must be some special feature of Swyft Filings that distinguish it from the rest of the others.
Well, let us tell you that Swyft Filings is best known for offering their clients the most affordable business formation services.
Their pricing scheme is suitable for entrepreneurs who want to form small or medium-sized businesses. Some other features for which Swyft filing is best known are:
Fast Turnaround time: Same or the next business day
Upfront Pricing: $49
Swyft Filings: Pros and Cons
Swyft Filings Pros
Affordable Pricing Scheme: All of the three packages offered by Swyft Filings comes at a reasonable price. Even the premium one is not as expensive as others.
User-Friendly Services: It is apparent from the customer reviews of Swyft Filing that they offer pretty much user-friendly services. Especially the platform's dashboard which helps you to easily spot the documents that have been filed and to track record of other legal activities of your business.
Long Term Customer Support: The best thing about Swyft Filing Services is that they never leave their customers alone, which means to say is, they offer lifetime customer support to their clients so you can seek their guidance at any time you're stuck in dilemma.
Authentic Guarantee: Their claim of providing you with satisfactory LLC services gains more strength because of their 100% money-back guarantee. So, if you're not satisfied with their work, you're gonna get all of your money back without any argument.
À La Carte Individual Choice Options: Another thing that adds up the fascination of Swyft filings for "some" entrepreneurs is that unlike typical LLC services providers, Swyft Filings is one of the very few agencies that also allows their clients to choose individual services to form the packages. This means that you don't have to buy the whole package if you want only a single feature.
Swyft Filings Cons
EIN Agreement Not Included in all Plans: One serious disadvantage of opting for Swyft Filings is that in the Basic package, they exclude the service of EIN operating agreement, whereas all the other LLC formation providers include this feature in all of their plans. So this means that you're gonna have to pay extra fees to apply for EIN.
Registered Agent Services is Charged Additionally: Another notable Con of Swyft Filings is that none of its packages includes the registered agent facility. so the client has to pay additional charges for this service.
Outsourced Services: A few services offered by Swyft Filings like that of domain registration and consultation with a tax professional are being actually provided by third-party businesses, which according to some clients is not beneficial at all because they can get these services directly from somewhere else at much more reasonable costs.
Swyft Filings: Key Services
Now, before moving on to the key services that Swyft Filings provides, let us first tell you that this agency is not limited to LLC formation only but can also help your form different business entities including S Corporation, C Corporation, LLC, and Non-profit Organizations.
As for the key services of Swyft Filings, the agency provides its customers with the following basic Features:
Filing Modification and Changes in Business's name
Initial report Generation
Annual Report generation
Transformation of Business Entities into another entity type
Filing withdrawal and handling other legal documents when you're spreading your business or moving out from a city.
International Filings
Filings dissolution on the closing of a business
Handling the foreign qualification of filings in case of starting your business in another country.
Offers tools such as registered agent services, sales tax ID registration, and corporate bylaws creator, etc.
Swyft Filings: Pricing and Packages
Rank

Editor's Rating

Cheapest Package Price

Registered Agent Service Price

Available in All 50 State

Free Registered Agent

Operating Agreement Fee

EIN Fee

Processing Time

This is the time the service provider takes to prepare or file your documents.

Expert Opinion

Promo Code
Based on their prices and features, Swyft Filings offers its customers 3 different Packages as a whole. Though all the three packages differ in prices depending upon the features included in them, but it doesn't mean that they compromise on the quality too.
In all three packages, the quality of service provided by Swyft Filings remains the same for everyone. So let's have a detailed look at each of its LLC Formation Plan, shall we?
Swyft Filings Basic ($49 + State Filing Fee)
The Basic Plan of Swyft Filings is the simplest package consisting of only a very few features that are most important in the formation of an LLC.
Due to its straightforward features and services, the price of the Swyft Filing Basic Plan is also quite feasible. Let's have a look at what this package has to offer you:
Price: The price of this package isonly $49. But keep in mind that you would also have to pay the state fee which is other than this and can wary according to the state.
Brand Name Availability Search: This package covers the availability of your domain name via specialized tools and also suggests you some creative names for your domain.
Preparation of the Documents: All the important business formation documents of your companies are prepared in this package. You're gonna have to provide them with some information to begin the process.
Document Filing: document filing is also a part of this package. They carry out the document filing of your business in the state which you have chosen for starting your business. The document filing is done with the secretory of that state.
Statement of Organizer: The Package also covers the formation of the statement of the organizer in which the names of all the initial members and managers of the business have been filed. Along with the statement of the organizer, they also provide you with the Certificate of Formation which has been filed with the name of the member who has received the permission for business formation.
Online Access to Documents: The Package then provides you the incorporation documents, holding all the necessary information regarding your business. Along with giving you the documents in person, they also provide you online access to them so you don't have to worry much even if you lose them.
Free Domain Name: Last but notleast, they also provide your business a brand new name without charging any fee, which on the other hand if you apply for individually is gonna get a little heavy on your pickets.
Swyft Filings Standard ($149 + State Filing Fee)
After the basic package comes the Standard Package. This Package covers all the formalities of the first one plus some additional features too.
This package also comes at an affordable price. Let's have a look at the additional features it offers along with the basic ones.
Price: Swyft Filings Charges you $149 for this package along with the state fee which varies according to the state.
EIN Operating Agreement: Unlike the Basic Package which does not include the registration and application of Employer's Identification Number and hence you have to spend extra money on that, Standard Package on the other hand covers the Procurement of your Business's EIN.
Corporation Bylaws: The standard package also includes the filing of Corporation Bylaws with the Secretary of state. All the rules and regulations included in the Company's bylaws are completely written by the board of Directors of your business.
Banking Resolution: this package then covers the opening of your business's bank account. They provide you with a completely customized banking resolution for your company.
Corporation Meetings of Minutes: the package also provides you with the facility of meeting minutes for your organization so you can track a record of every important thing that happened in meetings.
Swyft Filings Premium ($299 + State Filing Fee)
The Premium Package covered by Swyft Filings includes all the features and services offered in the previous two packages i.e. Standard and Basic. Yet it also includes some of its own services which are discussed below.
Price: The Price of this package is only $299 along with state fees varying accordingly.
Electronic Document Delivery: To add more security for the documents of your business, the Premium package provides you the facility of E-delivery. This helps you to save all the documents of business in soft form and easily transfer view, download and print them at any time.
Digital Corporate Kit: This package also provides you with a fully customized digital corporate kit including 20 stock certificates, and ownership ledger, and a company seal.
Website Formation and Webhosting: The package also strengthens the online presence of your company by providing the facility of free website formation along with free Webhosting services.
Shipping of Documents: This package offers you the option of free shipping your filing documents via FedEx. While on the other hand, they charge you a fee for the shipping in the Basic and Standard package.
Swyft Filings À La Carte (Additional Services)
Apart from the completely organized packages, Swyft Filings grants you the facility of À La Carte (additional services) so that you don't have to purchase the complete package if you only require a single service.
LLC Operating Agreement
Obtaining Employer Identification Number (EIN)
Seller's Permit
Business License
Digital Corporate Kit
Corporate Bylaws
Electronic Delivery of Documents
Minutes Management
Banking Resolution
Customer Reviews and Ratings
The Customers have rated the Swyft Filings with mixed reviews, many customers are quite satisfied with their services, and however some didn't like the services at all, yet the ratio of positive reviews is still higher than the negative ones.
The company has received approximately 32,284 reviews from its customers with a consumer rating of 4.5 stars.
How We Rated Swyft Filings LLC Services
On the whole, our experts like and appreciate the services of Swyft Filings. Yet the thing that we didn't like at all is that you have to apply for many services additionally as some of the most important ones are not even included in the packages.
These features of Swyft Filing might make the whole experience a little bit uncomfortable for you so we rate it with 4.3 stars.
Discount Offers on Swyft Filings
Swyft Filings is already providing its customers with affordable pricing schemes, so it doesn't seem that it requires an additional discount at all.
However, if you are looking for promo codes and discount offers on its services, then unfortunately Swyft Filings is not offering such offers by now, yet we can't say anything about the future.
Best Alternative to Swyft Filings | BetterLegal.com
If you're not satisfied with the packages and schemes of Swyft filing, then don't worry. We have arranged the second solution for you as well.
Our experts have found Betterlegal.com to be the best alternative to Swyft Filing as the latter also offers economical and effective solutions for the formation of LLC and the packaging scheme of Betterlegal.com is more advance.
It has also gotten a higher rating of 4.7 stars as compared to that Swyft filing, which is 4.5 stars.
Bottom Line
The pricing scheme of Swyft filings is its major plus point as no other agency is offering you services at such reasonable and economical costs.
However, as its package does not include many of the vital features and therefore the clients have to purchase them separately, this makes Swyft Filings a second option to consider.
Yet as the customers rating is quite positive and high, so we can say that Swyft filing does worth a try.
Frequently Asked Questions (FAQ) on Swyft Filings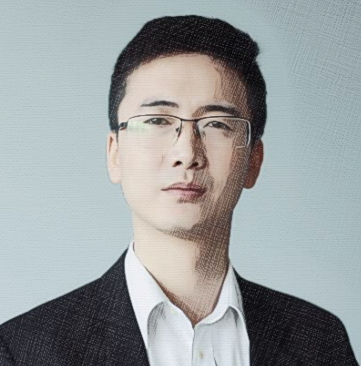 Hi, Wilson here. I'm here to help small business owners and entrepreneurs form an LLC for free and affordable prices in any of the 50 States. In my opinion, Forming an LLC shouldn't be so complicated, and I mean it. Stay with me to see how!
Please note: This page may contain affiliate links. If you buy a product or service through such a link we earn a commission at no additional cost to you.