Please note: This page may contain affiliate links. If you buy a product or service through such a link we earn a commission at no additional cost to you.
BetterLegal.com is home to LLC formation services. Claims to be one of the fastest and most affordable in setting up your business. How true the claim is, this "BetterLegal review" is really going to dig out.
With MoneyAisle, Get 10% off (save $30) on a standard package of $299. Now get LLC for $269 with BetterLegal.
Forming an LLC by yourself is a hell of a job. Especially when you're running a small business, and you don't have time and resources to allocate for this task. LLC services out there have solved this problem.
Founded and owned by Chad Sakonchik, in 2016, Better Legal is, relatively new but one of the leading LLC formation service providers these days.
Better Legal filing service has gained remarkable popularity in a few months that even competing ZenBusiness as well. And now BetterLegal is considered as one of the best alternatives to LegalZoom.
But the question is if BetterLegal is good enough for setting up your business registration as LLC or Corporation. Let's start with the quick comparison table.
Some Popular Alternatives
Formation Services
Key Features
Value
Learn More

The Best Overall Formation Service

Free registered agent service for a Year.
Only pay for what you need.
Quick turnaround option available.

High-Quality Customer Support

Privacy protection.
U.S based customer support.
Upfront prices with No upsells.

The Most Cost Effective & Affordable

Free LLC Formation.
Incredible customer reviews.
Real-time order tracking.
---
BetterLegal vs Top LLC Services (Quick Comparison)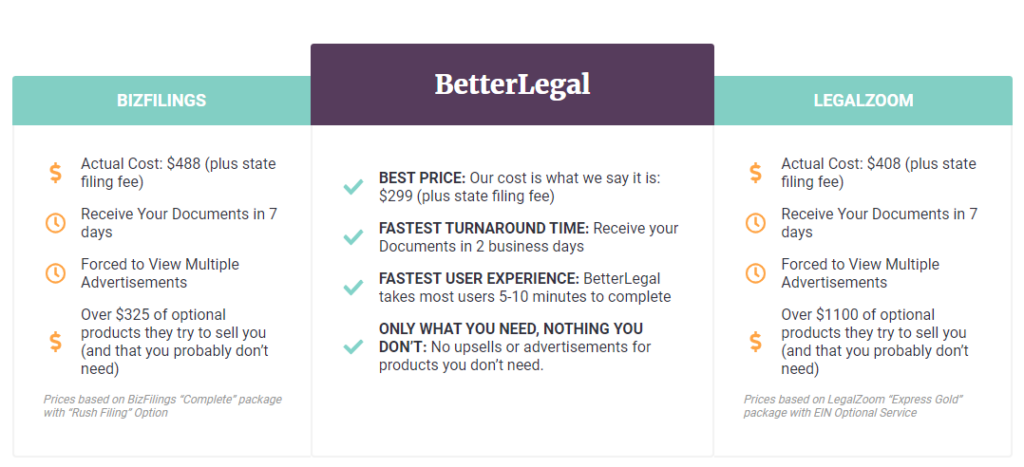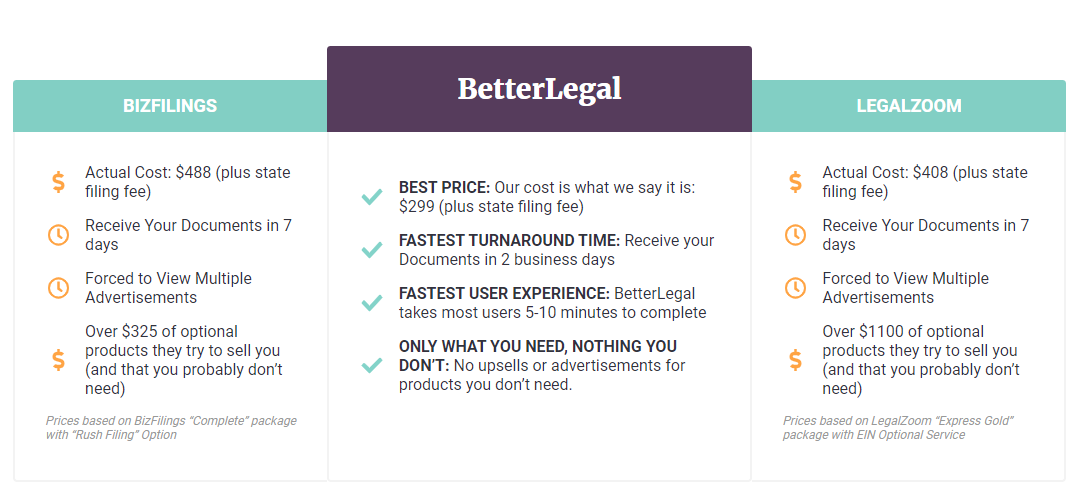 Best About BetterLegal LLC Service
Every company is known to the best and worst for the services it provides. BetterLegal is no more different. BetterLegal is best, and known for:
Fast turnaround time (2 business days)
Upfront pricing ($269 + State Fee)
[Discount of $30]
User Experience
As the Texas-based business formation company claims, if you're concern about speed, Better Legal is for you. BetterLegal files with your State the same day and you'll have your business registered within 2 business days.
Unlike many other LLC service providers such as Inc Authority or Incfile, there are no hidden prices in BetterLegal. What you see up front is what you're going to pay at the end.
Moreover, user experience is very easy, fast, and painless. According to Betterlegal.com reviews, most of the users complete the order form in five to ten minutes.
BetterLegal.com Pros & Cons
Pricing | Packages | Services of BetterLegal
[go_pricing id="betterlegal-review"]
BetterLegal does not mess with so many packages and bundles. It offers mainly two services i.e. 1) LLC formation service 2) Incorporation service. Both in just $269 plus the State filing fee.
LLC formation Fee ($269 + State Fee)
As already told, Better Legal charges $269 + the state filing ($30 Off) fee for LLC formations and corporation formation. This is a flat fee with no hidden charges that includes services such as:
The preparation and filing of the Certificate of Formation
An Operating Agreement
A Federal Tax ID/EIN
A banking resolution and other helpful documents
Note: The helpful documents may include Officer Designation, Ownership Amendment Form, Meeting Minute Template, and S-Corp Tax Election.
Apart from providing you with an excellent experience of filing your LLC, BetterLegal has got some additional exciting features to offer. Let us see what are these:
Operating Agreement and More (Free)
If you go with BetterLegal LLC service, you do not need to pay separately for an Operating Agreement. Moreover, in just $269 + state fee, BetterLegal offers the following services without any extra charges:
Amendment or Document Research (Free)
Amendment or document research service is free for whoever signs up for formation services including LLC and Corporation.
Additional Free Features
This is an additional list of free features or services that are available on BetterLegal.com The following categories are provided to help with the identification of some relevant extra benefits, but these lists are not complete and there may be other added benefits.
As always, you should speak with your attorney about more details about what makes sense for your case.
Free Settlement Checklists – Free detailed settlement checklists; what goes into a real estate purchase contract; which items need to be completed before closing (settlement); items that can become due at closing; etc.
State Specific Legal Guides – Free guides available in one state only (i.e., New York): sample real estate purchase contracts; pre-marital agreements; etc.
Free Attorney Directory – Free attorney directory with the ability to find an attorney; get support; and get a referral.
Free Legal Forms – Free individual legal forms available as download.
Free Newsletter – Free newsletter with current articles on the areas of law listed above and other topics of interest to members of BetterLegal.com .
Free Forum – Access to a free forum where you can share experiences, ideas, and ask questions about a variety of legal issues.
Free Membership – Free membership with access to all of the above benefits.
Free Website Domain – You can get a free domain when you sign up for a one year membership on BetterLegal.com .
Free Checking Account – You can receive a free checking account from BetterLegal when you download the free LegalZoom Checking Account Kit and complete an application.
Free Tax Analysis – You can receive a free tax analysis when you sign up for one of our BetterLegal subscriptions.
Atty Support – You can receive attorney support when you sign up for one of our BetterLegal premium subscriptions.
Additional Services
Better Legal does not add a few services into the main plan. Rather, it charges you separately for each feature given below.
Registered agent service = $90 per annum or $10 per month.
State Compliance Services = $10 per month.
Permit and License Search = $125 on time.
BetterLegal Registered agent service = $90 per annum or $10 per month.
BetterLegal does not offer its registered agent service as one of the three plan options. Rather, it is a separate offering.
You have to sign up for the main plan, then after that you pay for extra services or upgrades by paying month to month.
You can cancel services anytime you like and start up again if you need to. BetterLegal offers a 30 day money back guarantee for all of its main plans.
State Compliance Services = $10 per month
BetterLegal State compliance services are not included in any of the three main plans. Rather, you have to buy them separately.
You have to sign up for the main plan, then after that you pay for extra services or upgrades by paying month to month. You can cancel services anytime you like and start up again if you need to. BetterLegal offers a 30 day money back guarantee for all of its main plans.
Permit and License Search = $125 on time.
BetterLegal Permit and License search are not part of any of the three featured plans offered by Better Legal's official site. Rather, they are shown as an additional service which has to be paid separately along with other extra features such as registered agent service and state compliance.
You have to sign up for the main plan, then after that you pay for extra services or upgrades by paying month to month.
Registered Agent Service ($10/month)
This is the only negative with Better Legal LLC and incorporation service. BeerLegal does not provide Registered Agent service with LLC. Hence there is not paid or free registered agent service with BetterLegal.com.
However, you can hook you up with a professional registered agent (Registered Agents, Inc) for a discounted rate of $90/year if you go with BetterLegal. It is $10 a month.
State Compliance Services ($10/month)
Whatever it takes to keep your company compliant with State or any regulatory authority is mostly known as State compliance services such as filing the right paperwork at the right time with the right state agency so your company remains in good standing.
Just like registered agent service, BetterLegal does not provide free State compliance service on its own. However, sign up for ongoing compliance service with BetterLegal LLC service in $10/month or $90/year.
Important: If you do not make the required filing on time, you can be subjected to fines and extra fees. Eventually, the State will terminate your entity. Meaning you risk losing all the benefits your company provides, including personal liability protection.
Permit and License Search ($125)
You can obtain a permit and license service from BetterLegal separately. To figure out what permits and licenses your business needs is hectic and time-consuming work. BetterLegal can handle this smartly for you at just $125.
Customer Support
Online business formation services are totally virtual which sometimes make a customer feel robotic or impersonal. To put a more human touch, better quality customer services and friendly representatives play a key role.
In terms of availability, the customer care support is available on online chat 24/7. There are not much good reviews on BetterLegal customer care, as you cannot contact them easily except from online chat.
Customer's Review and Feedback
The business advisory plan of BetterLegal Solutions helps its customers to streamline their legal issues and tax-related problems. So, customers seeking such kinds of services are very happy with Better Legal.
On the whole, you see mixed reviews both negative and positive, but most are positive with a 5-Star rating.
You would not see plenty of reviews and feedback when compared to the number of customers they have served or the number of years they have been in this business.
TrustPilot (170 reviews) 4.8/5
Better Business Bureau (8 reviews) 4.88/5
However, these ratings can not help you decide the quality of BetterLegal's services since, in comparison to 568 customers, these reviews are negligible.
Our Ratings on BetterLegal (4.7/5)
Rating 4.7
· Reviewed by MoneyAisle
Overall, we rate BetterLegal 4.7 out of 5 stars. Most of the customer averagely rate 4.8.
Customer Rating: 4.8/5.
Our Rating: 4.7/5.
We reached out to other services of Better Legal LLC and evaluated them on multiple standards on which we judged the other Best LLC formation services. We come up with the following results.
Rating on Registered Agent Service: 2.5/5
It seems quite expensive to get a registered agent service at a rate of $90/ year when compared to other LLC services like Zenbusiness & Inc Authority LLC service is providing this service for free.
Rating on Filing: 4.9/ 5
Filing service is what BetterLegal.com is known for. Fast, affordable, and reliable. You can file with your State the same day so you'll have your Business within 2 business days.
Rating on Cost & Prices: 4.5/5
Overall good. Good in a sense that you do not need to mess up with so many packages and prices. Simply, a single and straight price and package. 269 USD plus state fee.
Moreover, Betterlegal is cheaper in overall sense. But services such as registered agent is not available for free so we would rate it 4.5 out of 5 here.
Rating by the Ease of Formation: 4.8/5
As it claims, so it does. Simple and easy process to file for your company even for a newbie. They ask only the important questions and getting to the point. The whole process takes less than an hour to set up. Here we can rate it 4.8.
Rating by Customer Services: 3.8/5
They are quite impressive in terms of availability hours, friendly representatives, and responding to you on live chat. But when it comes to email, phone, and other ways, you will never get the response and contact details.
Any Discount Offer?
If you think BetterLegal is the best fit for your requirements and you have made up your mind to go with their prices, there are sure some perks for you. Here, we've arranged 10% discount (which of $30 overall) on Better Legal LLC service as we find for ZenBusiness or Inc Authority.
Best Alternative to BetterLegal.com | ZenBusiness
If you bother the best rated, trending company, then ZenBusiness LLC service has got better ratings (4.8) in comparison to BetterLegal (4.7) and pricing is also economical (ZenBusiness in $39) compared to BetterLegal.
Therefore, Zenbusiness PBC is the best alternative to BetterLegal Solutions. See a detailed Review of the ZenBusiness LLC provider before you make any decision.
Top Ranked
ZenBusiness ($39)
Best Alternative
Emerging Name
BetterLegal
($269)
Bottom Line
Pricing is reasonable & to the point, and the turnaround time for Better Legal is impressive. The company got very few customer reviews yet, a lack of negative reviews is also a good sign.
BetterLegal FAQs
1. Is Setting Up LLC with Better Legal A Good Idea?
BetterLegal is a good option for newbies since there are no complicated pricing and package structure. $269 for a new LLC is very convenient. However, other services like Zenbusiness & Inc Authority offer cheaper and better packages.
2. What type of LLC set up does Better Legal offer?
They are offering all the business types which you can invest in, that is, sole proprietorship, general partnership, limited partnerships, limited liability company (LLC), and corporation.
3. How long does it take to file a new LLC with Better Legal?
Filing for your company takes anywhere from 5-10 minutes. And as soon as your company is formed, you will get the company's formation documents within 2 business days. Yet, BetterLegal is know for the fastest LLC formation service out there.
4. Is BetterLegal legit?
Yes, Better Legal is very legitimate. They've been around for 7+ years and they are known to be the fastest LLC formation service out there.
5. Does Better Legal offer discounts to students and military?
No, Better Legal offers only one price for their standard service which is $269.
6. How does Better Legal protect client information?
All the client interaction details are encrypted through Secure Socket Layer (SSL) technology to ensure the highest security standards.
7. What is BetterLegal best for?
BetterLegal LLC and incorporation service is best for startups who want to form their LLC within 5-10 minutes without getting confused with complicated pricing packages.
8. How BetterLegal is compared to other formation services?
BetterLegal is known for the fastest LLC formation service out there, yet they're offering only one price plan. Other services like Zenbusiness & Northwest Registered Agent offer more affordable and flexible plans.
9. Does BetterLegal have any refund policy?
Unlike LegalZoom and other formation companies, BetterLegal does not offer refunds, as company clearly states "All purchases through the Website are final and will not be refunded."
10. How to cancel BetterLegal services?
Here's what BetterLegal says with regards to canceling their registered agent service:
"To cancel the automatic renewal of your RA Service, you must notify BetterLegal of your intent to cancel by calling our Customer Service Line at (512) 969-2339, emailing us at [email protected], or by canceling online through your account portal."
So, in other words, to cancel your Better Legal services, you should contact their customer service as soon as possible.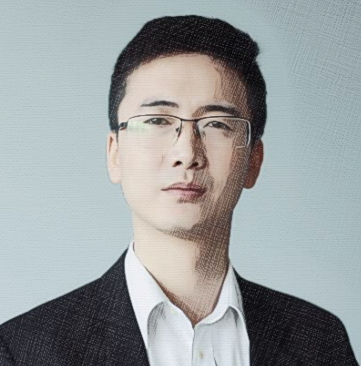 Alfie Wilson, Esq., is a legal content writer with expertise in business formation, criminal law, veterans disability, family law, DUI law, personal injury, animal welfare, and legal writing. He holds a J.D. from Emory University School of Law and has experience in appellate advocacy and regulatory matters. Alfie's passion lies in breaking down complex legal topics for a non-lawyer audience. He currently writes for law firms and non-profits on various issues and resides in Arlington, Virginia.