Please note: This page may contain affiliate links. If you buy a product or service through such a link we earn a commission at no additional cost to you.
LLC in TX: If you want to form a Texas LLC online or by mail, you need to submit the Articles of Organization with the Texas Secretary of State for $300. For details, follow the 6 steps given in this article.
An LLC in Texas basically links an organization's limited liability (as offered in a corporation or LLP) with the pliability and shortage of formalities of any sole proprietorship.
We would recommend setting up an LLC in TX for any entrepreneur whose objective is to protect personal assets from professional liabilities such as lawsuits and debts.
Not from Texas? Learn to Start an LLC in any other State.
Tip of the Day: Texas LLC formation by yourself is mostly hectic and time taking. Hiring a reliable LLC formation service is an intellegent choice as it saves you from overspending and wasting your time. Therefore we recommend you:
Introduction:
Now, what is an LLC? A Limited Liability Company (LLC) unites the best features of partnerships, sole ownerships, and corporations into one organizational entity.
An LLC provides full protection against business liabilities, tax incentives, flexible tax structure, and requires lesser formalities unlike S corp or C corp, etc.
It only costs only 300 USD to initiate an LLC in Texas.
All you've to do is to submit a certificate of formation of your new business with the state authorities. An entrepreneur can either apply online, drop a mail, or visit the office in person to create a new LLC.
In this article, we will explain the LLC formation method in Texas. So let's get started!
Outlining the LLC Formation Process
(6 Steps)
Pick a Name for Your Texas LLC
Find a Registered Agent for Your LLC
Submit the Articles of Organization
Establish an LLC Operating Agreement
Get a Federal Tax Identification Number (also called EIN)
Obtain Necessary Licenses, Certifications, or Permits
In the subsequent sections, we are going to discuss one by one each step in detail to make it clear for new business owners and entrepreneurs.
Step One
#1: Pick an LLC Name
The first and foremost part of building an LLC in TX is to pick up the right company name. Try to select a name that corresponds to Texas standards and is conveniently accessed by prospective customers.
Instructions to Follow While Naming an LLC
Make sure to choose a unique name for your LLC that is different from other Texas LLCs.
You must include "Limited Liability Company" to his new company or the abbreviation of it, LLC, L.L.C., Ltd., Limited, Company or Co. with your LLC's name.
Avoid using words that can confuse your LLC name with the government agencies, such as State Organizations, Treasury, FBI, etc.
You may require additional paperwork to use restricted words such as Bank, Attorney, University, etc, or a licensed individual, such as a lawyer, doctor, etc to be part of your LLC name.
Texas Secretary of State's guidelines have a complete list of naming rules in Texas and help you decide on a suitable name for your Texas LLC.
Checking LLC Name Availability in Texas
After deciding on a suitable name for your Texas LLC, the next step is to verify that your chosen name in Texas is available for your use. Make sure if the name is still available or utilized by another entity.
To check the name availability in Texas, click on the following link to the Texas Comptroller of Public Accounts website:
Furthermore, you can also generate a name through an LLC Name Generator online.
Step Two
#2: Find a Registered Agent
Another vital step is to appoint a reliable Registered Agent to form an LLC in TX.
A registered agent is a person or entity appointed by your business such as an LLP, LLC, or corporation to receive service of process notices, official mails, government correspondence, and other compliance-related documents on behalf of your business.
Click on the following link to know more about "why do you need a registered agent?".
There are some limitations when choosing a registered agent in Texas. The person should be a Texas inhabitant and available during business hours. Click here to know more about the requirements of a registered agent.
Important
You need to submit a fillable consent form. View the Acceptance of Consent Form 401-A for a Texas registered agent.
How to Get a Texas Registered Agent?
You may nominate yourself for government correspondence, and also hire affordable services to keep your personal information private. (The registered agent's name, address, and contact are made public on the government website).
We recommend ZenBusiness due to its registered agent services available in all 50 states at an affordable price and satisfactory customer care. Moreover, if you incorporate your Texas LLC through ZenBusiness, they charge you only $39 plus the state filing fee and offer a free first year of their registered agent services.
Step Three
#3: File an Articles of Organization
During the formation of an LLC in TX, it's crucial to submit your articles of organization linked with the Secretary of State. A general article should cover the following:
Name and type of LLC
Registered agent and registered office
Governing authority (member managed vs manager managed)
Purpose of LLC formation
Initial mailing address
The organizer of LLC (the person who is forming an LLC)
Signature of an authorized person of an LLC
DIY Cost of Forming an LLC in Texas ($300)
The main LLC formation cost through the DIY route is the state filing fee of your Article of Organization. Currently, the state of Texas charges you $300 for filing your LLC and it may be subjected to revision by the state. The filing fee for articles of organization is the same, regardless you submit them online or through the mail.
Form 205 – Certificate of Formation is the official document that you need to file with the Texas Secretary of State to register your Texas LLC. You can apply online, by mail, or in person.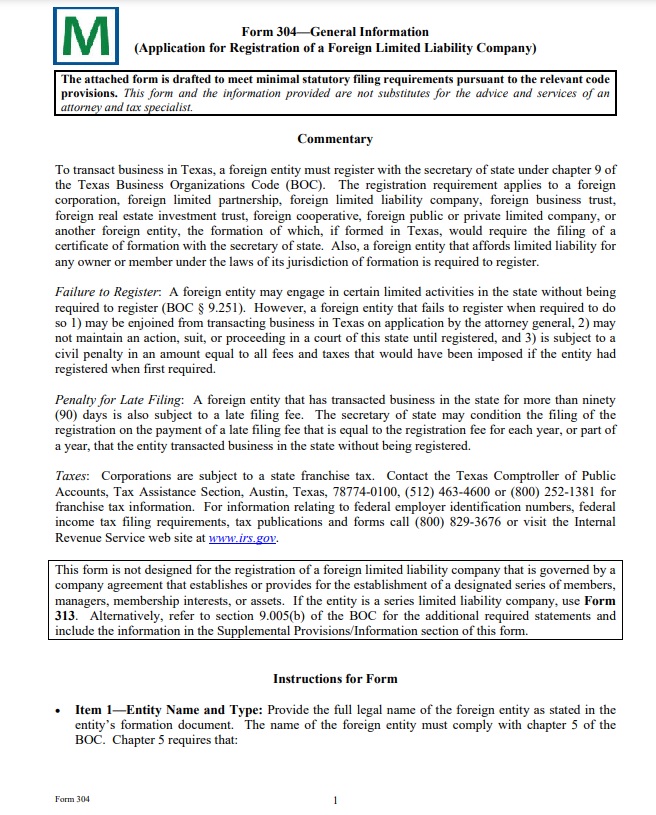 Fax: (512) 463-5709
Mailing Address:
Secretary of State
P.O. Box 13697
Austin, TX 78711
In Person Filing Address:
James Earl Rudder Office Building
1019 Brazos
Austin, TX 78701