If you are seeking the best LLC service to start a Limited Liability Company (LLC), consider Tailor Brands, a popular LLC formation service among entrepreneurs these days: Experts' Opinion!
After testing multiple LLC features and doing in-depth research, in this Tailor Brands LLC service review, we have compiled Tailor Brands':
Pros and cons
LLC packages
Additional LLC services
Customer support, and
Clients' feedback
We hope after reading this review you will be able to decide whether Tailor Brands is the best LLC service or if you should look for an alternative.
Tailor Brands LLC Service Review at A Glance
Our Verdict
A one-stop LLC service that ensures a strong online presence and branding while forming your LLC.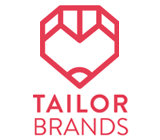 Tailor Brands Company Overview
We are living in a digital age where everything is a few clicks away. Through digital identities, we are growing our connections, learning beyond borders, and trying new stuff every day. Hence, businesses without an online presence can hardly expect to survive in the days to come.
To save you from the hassle of getting business formation, website building, and branding services from multiple places, Tailor Brands offer everything under one roof.
With the vision to empower entrepreneurs to easily launch their businesses and secure an online presence right away, Tailor Brands is providing a one-stop shop. Tailor Brands can help you in:
LLC formation
Building a website
Creating a logo
Reserving a business domain
Creating a business mailbox
Developing business cards
Branded merchandising
Search engine optimization (SEO)
Business listing, and more.
So, if you are looking for an LLC service that launches your business and helps you grow at the same time, Tailor Brands is not a bad option.
Tailor Brands LLC Service Review: Our Approach
Getting a reliable and pocket-friendly LLC service is very draining and time-consuming, especially when you have plenty of good options.
We see your pain and value your time and every penny you spend on launching a successful business. Therefore, we have covered every possible aspect that plays a vital role in decision-making regarding the Best LLC service for your business.
In this Tailor Brands LLC service review, we tried to answer:
Is Tailor Brands LLC service worth it?
Is there any alternative or better option than Tailor Brands LLC service?
For whom Tailor Brands LLC services are suitable and who should look for alternatives?
Analyzing the information surrounding these questions will enable business owners and entrepreneurs to find a suitable LLC service tailored to their customized needs.
Detailed Breakdown of Tailor Brands Reviews and Ratings
Tailor Brands is a popular all-in-one platform among millions of entrepreneurs around the world. If you have an idea and striving to turn it into a successful business, Tailor Brands has gotten you back.
Tailor Brands offer online LLC registration solutions, registered agent services, and branding while ensuring your strong online presence. After testing their branding and LLC services, reviewing the third-party review platforms, and contacting some previous customers, here is how we found Tailor Brands LLC service:
(4.3/5)
Price, Cost Value, and Turnaround Time
Tailor Brands LLC formation service is, beyond any doubt budget-friendly, especially the Elite package. However, due to unspecified turnaround time and fewer features included in the lite and essential packages, we rated Tailor Brands packages 4.3/5 stars.
| | | | |
| --- | --- | --- | --- |
| | Lite | Essential | Elite |
| Price | $49 + state fee | $149 + state fee | $199 + state fee |
| Turnaround Time | Not specified | Faster than lite | 7 – 10 business days |
| Included Feature | Name check, articles of organization, | Lite features plus annual compliance, and operating agreement | essential features plus Free domain for a year, logo maker, website builder, digital business card, social media post maker, business cards tool |
At the same price ($49), you can get a free registered agent and worry-free compliance from ZenBusiness.
(4.3/7)
Additional Features
Tailor Brands, in addition to 3 LLC packages, provides you with the following add-on LLC services:
These features are good options for LLCs that only need only one service. Still, these features are a bit expensive compared to companies like IncFile and ZenBusiness which offer all these features in their LLC packages.
Moreover, as a standalone feature, ZenBusiness offers these services at a much less price compared to Tailor Brands.
(4.7/5)
Company's Track Record
Tailor Brands was started in 2014 and has launched over 500,000 businesses. This means the company has gotten impressive experience compared to the time in the business formation niche. This is why Tailor Brands has gotten a good rating in this section.
(3.9/5)
Customer Support
Tailor Brands offers average customer service. If you expect personalized customer support from your LLC services provider, Tailor Brands is not for you.
You can find answers to the most common questions on their website. For specific queries, Tailor Brands offers email or live chat support. However, they do not provide phone support.
As many business owners and entrepreneurs find it more convenient to address their issues through a phone call, Tailor Brands lacks this vital aspect. In contrast, Northwest Registered Agent has an in-house team of professional and knowledgeable customer care representatives to assist you in your LLC formation.
Many of Tailor Brands' competitors such as ZenBusiness and LegalZoom provide expert opinions on a phone call and extend their customer services to weekends. So, in this category, Tailor Brands could not impress us the way its competitors did.
(3.9/5)
Customer Reviews
Tailor Brands' customer feedback on third-party review platforms is not encouraging. It is rated between 1.1/5 to 3.9/5 on online customer review sites. Let's have a look at some of the famous review platforms:
Trustpilot Rating 3.9/5 with 2,850 Customer Reviews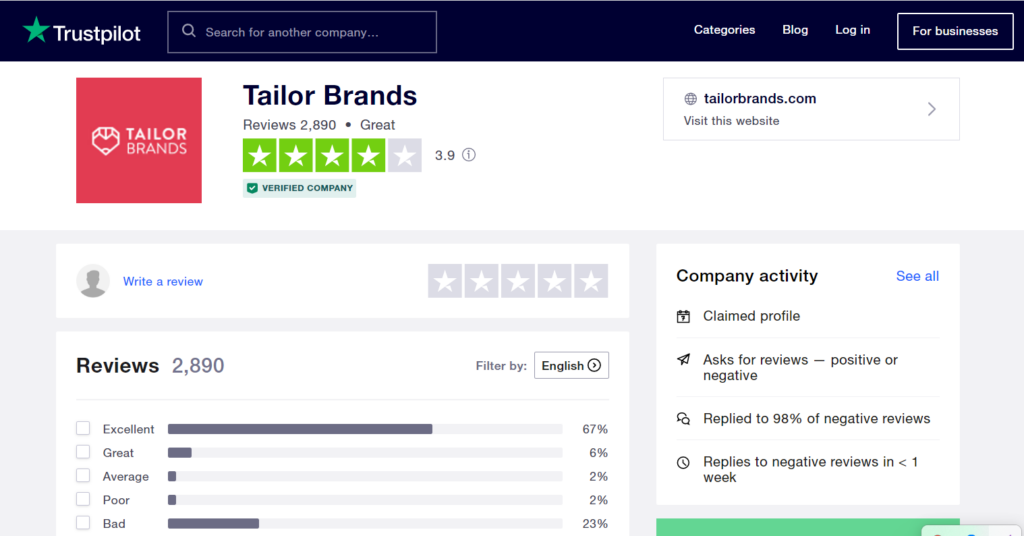 Sitejabber Rating 1/5 with 1 Customer Review

Better Business Bureau Rating 1.16/5 with 56 Customer Reviews (not BBB accredited)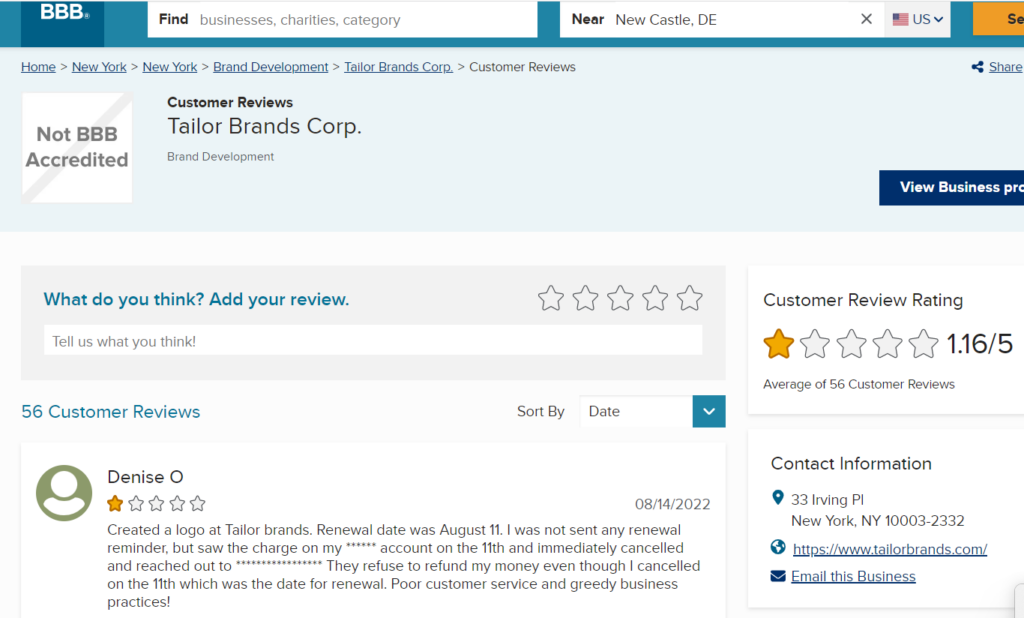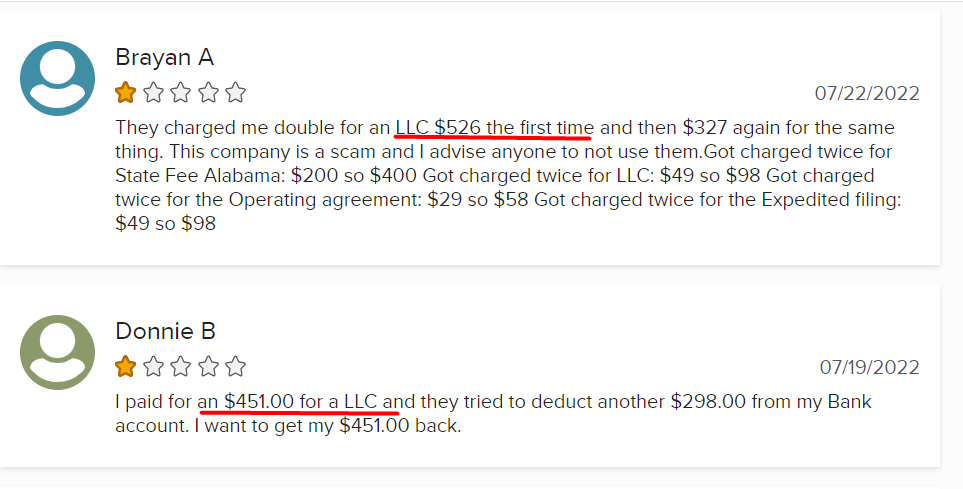 We have not found any reviews on Google Reviews. One of the reasons for a relatively low rating and few reviews is that only dissatisfied customers have shared their feedback.
Having a colossal customer profile of 500k customers with very little feedback does not make sense otherwise.
(4.1/5)
Ease of Use
Tailor Brands has a pleasing and eye-catching website, but the LLC formation packages are not transparent. Many previous customers complained that they end up paying more than they expected.
We and other customers found it frustrating that you have to go through a long process or log in to their website to learn about their packages. If they have mentioned the straightforward prices of all their services, that could be very helpful for entrepreneurs looking for different options before deciding on suitable services or other features.
Before you actually select your LLC package on Tailor Brands website you must provide the following information:
Required Information
What is your desired LLC name?
What does your business offer?
At which stage your business is?
In which state do you want to form your business?
Which add-on services do you want?
So the long checking out process and no straightforward LLC package information made us rate them relatively bit low than its competitors.
Alternative to Tailor Brands LLC Services
After going through the features mentioned above, we concluded that if you are purely looking for LLC registration services, there are several better options. We compared our top picks like ZenBusiness and Incfile with Tailor Brands LLC service. You can find some other outstanding online LLC services here.
Here is how we found them better than Tailor Brands:
| | | | |
| --- | --- | --- | --- |
| Features | Tailor Brands | ZenBusiness | IncFile |
| Silver Package Price | $49 plus state fee | $39 plus state fee | $0 plus state fee |
| Included Features | Unlimited name search, articles of organization, | Unlimited name search, articles of organization, one full year of registered agent, worry-free compliance | Unlimited name search, articles of organization, one full year of registered agent, lifetime company compliance alerts, next-day order processing |
| Company's Tract Record | Establish in 2015 with 500K customers | Established in 2015 with 250K customers | Established in 2004 with 800K customers |
| Customer Care | No support available on the phone | Not available on Saturday but you can easily connect with them during weekdays or Sunday | Not available on Sunday but you can easily connect with them during weekdays and Saturday |
| Customer Reviews | Poor | Mostly positive | Mostly Positive |
| Ease of Use | Longer checkout, many upsells of more than $1,000 | 6 upsells totaled $600 | Many upsells of more than $800 |
For Whom Tailor Brands is Service Suitable?
If you want branding and an online presence along with LLC formation, Go for Tailor Brands. Tailor Brands' Elite plan is less expensive than ZenBusiness' Premium plan which provides similar features.
Our Verdict
We recommend Tailor Brands' Elite plan in which you will get LLC formation, Expedited processing, Annual compliance, Operating Agreement, Logo maker, Website builder, Digital business card, Social media post maker, Business cards tool, etc.
Who Should Look for Alternatives?
If you value customer reviews and multiple features at an affordable price, then you should look for an alternative to Tailor Brands LLC Services. We recommend ZenBusiness and Incfile as they are affordable and offer much more at a lower price. However, if you want some more options, go through our 6 best LLC Services Review.
Is Tailor Brands LLC Service Worth it?
Well, that depends on your LLC needs and budget. If you want website formation, LLC registration, and branding of your business at an affordable price, Tailor Brands' Elite package is definitely worth your time and every penny.
However, if you just want to file your articles of organization by a professional, Tailor Brands is not a good option. Consider ZenBusiness or IncFile instead as they offer free registered agents and compliance at a much less price.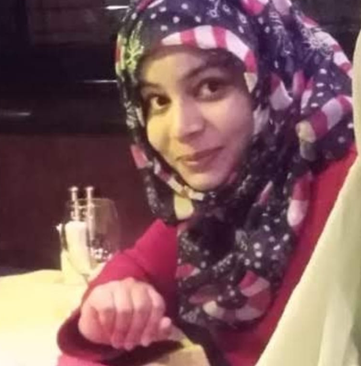 Aisha Noreen is an owner of a small business with more than 9 years of experience in the marketing industry. With the wisdom of an old soul, she always seeks innovation and mind-blowing ROI techniques. Her unique approach helped many small businesses thrive and she can surprise you in many ways as well. Believe it or not, her energy, passion, and creativity are contagious enough to transform your business and take it to another level.
Please note: This page may contain affiliate links. If you buy a product or service through such a link we earn a commission at no additional cost to you.