Please note: This page may contain affiliate links. If you buy a product or service through such a link we earn a commission at no additional cost to you.
Formation Services
Key Features
Value
Learn More

The Top-Notch Customer Care

Free account for DIY assistance.
Monthly finance is also available.
Upfront prices with no hidden charges.
NW Registered Agent is one of the well-known business and LLC formation service providers. But is it legit enough for your startup? Let's discover it in this review article.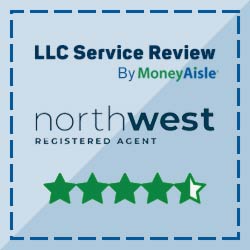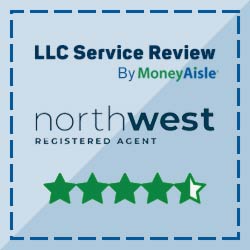 You can find many Northwest Registered Agent customer reviews on public websites like Google, Yelp, BBB, and sometimes on Facebook as well. But these Northwest Registered Agent reviews can be manipulated as many companies hire a different agent to create positive fake reviews for their company.
Though one of the most experienced Registered Agent Service providers, is Northwest Registered Agent good for LLC formation by reputation? In this tested review, we'll cover all the plus and minuses to help you decide if it is a reliable LLC formation Service to go with.
No fake reviews or comments, but a good research opinion by our dedicated experienced team of experts is here for you.
---
Northwest Registered Agent Review
Since 1998, Northwest Registered Agent has worked hard to establish genuine prestige in the field. They are offering the best LLC formation services and registered agent services with some other legitimate business facilities. They are ranked as one of the top LLC companies, besides ZenBusiness, and IncFile by many LLC formation services reviewers.
In this Northwest Registered Agent review, we'll highlight all the imperative features, covering its pros/cons, pricing, registered agent services, LLC and other business entity formation services, and much more. So, continue reading to conclude if it is the perfect choice for you or not.
Are you in a hurry and wish to form a new LLC right away?
If you're confused about choosing the best LLC formation service among tons of swarming ads and multiple options that all seem right, don't worry! We have shortlisted the top-rated for you.
Pros and Cons
Northwest Pros
Incredible Customer Support: For more than 2 decades, you will find Northwest Registered Agent holding its position among the best LLC companies with incredibly competent customer support. They have a team of highly proficient staff available all the time and a Corporate Guide to help you navigate through challenging business formation issues.
Their customer support team quickly resolves your business-related issues every time you call them – be it about LLC services or other documentation problems.
Free First-Year Registered Agent Service: Northwest Registered Agent is one of those LLC creation services, that offers a free first-year Registered Agent Service. So once you hire them for your business formation, you can examine the registered agent service for 12 months before finalizing whether to consider this service further or not.
Responsibly Handles Your Privacy: Most LLC formation companies do not respect your business information and sell it to third parties for their profit. But Northwest Registered Agent has a supreme privacy policy and protects your sensitive information on their official servers by having an in-house team of developers and providing security codes.
Let You Use Their Official Address: Sometimes, the address you utilize for your LLC filing appears as a public record on Google and other search engines along with the Secretary of the State record. Northwest allows you to use their official address by providing a full year of free registered agent services. This way, you can keep up your business privacy and save yourself from junk mail and spam.
Northwest Cons
Expensive Initial Price: Northwest LLC's service is quite expensive when compared to other big companies in the market. Being on a short budget, one can grab other affordable LLC services starting from as low as $39 plus the state fee. Compared to Zenbusiness (starting at $39), it is much more reasonable especially when there are no hidden charges.
Limited Plan Option: There are no price packages offered by Northwest, and customers have no choice but to purchase their only package.
Few Third Parties Involved: Unlike several other services, Northwest comes with a few third online parties. It may not seem to be a disadvantage, but most customers count on this point while purchasing the package.
Key Features
Registered Agent Service
A registered agent is a business entity looking after all of your business documentation. They responsibly get the official filing updates and prompts you of the closing dates too. Moreover, if your company gets charged, a registered agent will manage the legal paperwork and send them to you so preventing collection agencies from reaching you in person.
Keeping all things in mind, Northwest grants you a free first year of registered agent services that you can customize at any time. From next year onwards, you have to pay yearly charges.
Operating Agreement
An operating agreement is more like a legitimate document that regulates your LLC, a limited liability company. This agreement lets you know who possesses and supervises your LLC. It will also inform you on how to resolve any LLC-related issue and how to deal with business profits and losses.
Northwest implements an operating agreement that is carefully merged in an easily comprehensible language by everyone. It is also free of cost, managing, and fixing rules and regulations for your new LLC business.
The company has made an agreement for customers that covers all the bare essentials. On the whole, they have proudly benefited more than 1.5 million LLCs through their official agreements.
Fast Filing
Soon after you buy the LLC service package from Northwest, they will process the orders from the same day or the very next day.
The turnaround time for your order delivery depends absolutely on which state you opt to form in. Moreover, the filing process may fasten considering your expedited processing demands.
Low Cost
Northwest LLC services start from a minimum of $39 plus the state fee for the formation of an LLC.
This cost not only covers a free registered agent service for one year but also offers an operating agreement, privacy, mail forwarding, and a 2-day filing process. There are no such packages option to choose from. To know more about their features and services, you can visit their official website too.
Easy to Form
The whole LLC formation process is so convenient and easygoing. The company will immediately start processing soon after you place your order. As a fast LLC company, Northwest helps you supervise your official documents and information.
Moreover, their dashboard system gives relaxing vibes to customers using their online services. It not only organizes your documentation but also is very handy to use.
NW Registered Agent Prices and Packages
[go_pricing id="northwest-review"]
Northwest Registered Agent LLC service doesn't offer many packages but is confined to a single one. So, customers do not have to rush toward multiple prospects and decide on anyone. Let us discuss in detail what Northwest has to offer:
Northwest LLC Purchase Package: $39 + State Charges
Business Name Availability Search
The company will make sure to check your desired business name availability within this package. Sometimes the chosen name has already been utilized by another customer or official unit, so this key feature carries great importance.
Drafting and Filing Your Articles of Organization
The articles of organization or corporation are the papers that depict your company's general information for a state to form a new LLC for you. Northwest can draft these papers and file them according to your state of formation.
One Year of Registered Agent Service
It's a necessity for every LLC to hire a registered agent in America. This registered agent takes hold of all the legal company records on its behalf. Moreover, the agent has to forward the files to you, bearing in mind all the closing dates.
Northwest gives an opportunity of getting a complimentary first-year registered agent service. After the completion of one year, the customer has to pay a renewal cost of $125 for the next year. However, a client is never forced to do so.
Receiving Operating Agreement
Although this agreement is not essentially required, we highly recommend it. As the name displays, it is an agreement outlining and detailing how you can operate your new LLC. Besides, it also helps by setting the ownership rules and regulations for your company.
Fast Filing of LLC Formation
Once you purchase the LLC package from Northwest, they will swiftly concoct your order to deliver it to your state within no time.
Northwest: Additional Services
Federal Tax ID Number (EIN): At $50
Do you understand a Social Security Number? A federal Tax ID Number, abbreviated as EIN (Employer Identification Number), is just like an SSN.
It is a nine-digit security code that authorizes your new LLC to create business accounts, choose professional staff, register income taxes, and much more. By paying an additional $50 to Northwest, you will get your own Tax ID Number from the IRS.
Get an S Corporation Election with IRS: At $50
Northwest provides the best S corporation election with IRS. If you want to get a taxed S corporation instead of the default, Northwest is the most suitable option for you. It will manage all of your filing processes.
Northwest Compliance Filing: At $100/year
Get a compliance filing at the rate of $100/year from Northwest LLC service. They'll keep tabs on and manage the current obligations of your state if any. Keep in mind that the filing cost doesn't cover the state fees. That's separate.
Double Telephone Number: At $9/month
Get another telephone number for your new business just at the rate of $9 per month. It will help you select an area code and easily receive forwarded calls. It is also beneficial for dealing with your personal and business calls separately.
Additional Corporate Supplies
The corporate supplies prices vary with different options and entirely depend on what a customer wants. All in all, Northwest offers seals and corporate books, certificates, notary stamps, etc.
Privacy by Default
When you form an LLC while keeping your identity private, it can be called an anonymous LLC formation. There could be many reasons why many small business owners do not want to reveal their identity. But the most notable reason is security. Thankfully, Northwest takes care to help you form an LLC anonymously without charging any penny.
Northwest Customer Reviews & Feedback
Anyone willing to start a business or an entrepreneur wishing to get a registered agent service or an LLC formation service can blindly trust Northwest LLC services.
To make it more clear to the customers, we've grabbed a few authentic customer reviews from the Better Business Bureau website. People are extremely satisfied with the services and boost their businesses using the top-notch LLC service. Let's have a quick review!
Northwest has far been a loyal company for my business. They wisely managed to process my filings and responded quickly to all of my questions. I would say that spending on Northwest is worth your money! All my grown-up business today would have been nothing without them. Really appreciate their efforts.
Affordable pricing with no extra charges, quick turnaround time, best customer support, and an overall gratifying company to cope with!
Someone recommended Northwest on the days I was really worried about choosing an LLC service. I had an overall wonderful experience with them. Their customer support should be highly appreciated.
Once I got stuck in changing the LLC specifications, so I called their support center. They not only dealt nicely with me but also asked if I want a refund or not. They helped me throughout the time. Isn't it great?
You can trust Northwest services without a second thought. They are offering comparable services as LegalZoom, and that too at a cheaper rate. I must say that the company has put a lot of effort into making a great staff. Their client support is worth appreciating. I was initially worried that it was a scam, but the legit business does wonders with a fast filing process. I am very happy with the overall services. Recommended for sure!
How do We Rate the NW Registered Agent Services?
Rating by Registered Agent Service 4.5/5
The Northwest's LLC services are worth the money. Their registered agent services sensibly walk you through the entire LLC formation and handle your doubts too.
Customers attract more to Northwest LLC services because they provide free registered agent service for one year.
Rating by Filing 4.2/5
Northwest is considered to have fast filing processes. Soon after you choose your desired state from the dashboard, the website will show an estimated delivery time. Northwest's turnaround time depends on which state you choose to prepare your orders in.
For most states, the company quickly processes the requests within a few days, but it may take weeks in others. For the ease of customers, they have advanced services with additional charges too.
Rating by Cost 4.5/5
If you compare the service with other top companies, it's a bit expensive. However, Northwest doesn't puff up with unnecessary features as the competitors have done. It only appears with a single LLC formation package that charges $39 and a state fee.
Rating by Ease of Formation 4.3/5
We cannot say that the website is as easy to use as others, but yes, it is at least functioning ideally with no such software issues. All the order formations and layouts are presented, giving clear feature descriptions.
Besides, the dashboard tool by Northwest makes sure to properly organize your LLC documentation which is also very convenient to use by customers.
VIP Package Service: Discount Offer
If you plan to hire Northwest services to form a new LLC for you, they will include a first-year free registered agent service in it. Moreover, it permits you to utilize their official address for security purposes.
In an otherwise case, if you decide to buy their LLC package from moneyaisle.com, we will give you a discount deal. Instead of hiring NW for a year and paying $39 at once, pay monthly. Try Northwest Registered Agent VIP Package Service for less than $60 including State Fee.
Best Alternative to Northwest: LegalZoom vs Northwest Comparison
Formation Services
Key Features
Value
Learn More

The Top-Notch Customer Care

Free account for DIY assistance.
Monthly finance is also available.
Upfront prices with no hidden charges.

The Most Famous Formation Company

Offers many other legal tasks in addition to LLC services.
A refund is available.
Fast and Easy to use.
Although Northwest is a perfect choice for anyone forming an LLC, one should always consider multiple alternatives while selecting any one package many have compared Northwest with Corporate filing solutions.
It has always been a smart step!
However, here we are presenting you with the best alternative to Northwest, which is LegalZoom – an experienced LLC formation company.
Pricing – LegalZoom offers more affordable rates than Northwest, starting at just a price of $99 plus the state fee at the regular price. However, we have the best deal for Northwest. Get a 60% discount here.
Business LLC Formation – LegalZoom stands for the giant LLC companies that managed to form a million LLCs over the past decade. It's an amazing factor for entrepreneurs requiring the formation of an LLC. On the other hand, although Northwest has a similar experience still couldn't get as many LLC formation projects as LegalZoom. You can see the detailed comparison of LegalZoom vs Northwest Registered Agent here.
With a Discount of $39
Northwest
Most Experienced LLC Service
$0
LegalZoom
Registered Agent Service Not Available
Verdict: Mark the Right Choice
After thorough research on multiple online LLC services, we have concluded that Northwest Registered Agent is a superb choice among many in the market. Their fantastic customer support is, by far, a good advantage for people having little know-how of technology.
If you fall in those entrepreneurs demanding premium client support with a free one-year registered agent service and affordable packages, Northwest LLC service is ideal for you. Quickly get your hands on their services before it's too late!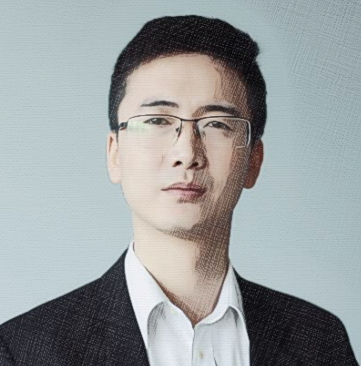 Alfie Wilson, Esq., is a legal content writer with expertise in business formation, criminal law, veterans disability, family law, DUI law, personal injury, animal welfare, and legal writing. He holds a J.D. from Emory University School of Law and has experience in appellate advocacy and regulatory matters. Alfie's passion lies in breaking down complex legal topics for a non-lawyer audience. He currently writes for law firms and non-profits on various issues and resides in Arlington, Virginia.