LLC Articles of Organization (sometimes called Certificates of Formation) are legal documents filed with the state to form a Limited Liability Company (LLC). Keep reading to learn how to file articles of organization in any U.S. state and get free templates.
Strongly Recommended!
You can get your Articles of Organization filed for less than $40 by hiring an LLC filing company. Hiring a professional and legit LLC Service online like ZenBusiness or Incfile saves your time and mental peace. Therefore we recommend you to:
What are the Articles of Organization for LLC?
Articles of organization are the legal and public documents that recognize your business as a registered and legal entity in the state of its formation.
Article of Organization is just like a birth certificate of a company that outlines the primary details of a company. It is similar to the Article of Incorporation that is needed to register a corporation in the USA.
The information given in the articles of formation is used to establish the rights, duties, powers, liabilities, and other obligations between the LLC and its members and also among each LLC member.
Important
Articles of Organization vs Certificate of Formation
Sometimes many LLC owners think LLC articles of organization and certificate of formation are two different things. There is no need to get confused. Both are the different names of the same legal documents.
Depending on the state where you intend to file your LLC, these LLC formation documents are called:
Articles of Organization
Certificates of Organization
Certificates of Formation
Articles of Formation
How to File Articles of Organization| Get Articles of Organization in All 50 states of the U.S.
Before filing the articles of organization, you must have the information about your company on hand. Though each state has its own requirements and filing fee, below are mentioned the basic steps to file articles of organization for your LLC:
Select a state where you want to form an LLC
Visit the state website (secretary of the state or department of the state)
Sign up for online filing or download the articles of organization pdf form
Fill the form with the correct information
Pay the articles of organization fee through credit card, check, or money order (depending on how your state requires you to pay)
Submit the articles of the organization online or mail the articles of organization pdf form to the address given on the form (some states also allow submission in person or via fax)
Wait for the Approval of articles of the organization (upon approval, the state will send your approved articles of organization via mail or email)
To save you from the hassle of going here and there to gather information on the state website, filing fees, or visiting the state office in person, we have compiled a state-specific guide on How To Get Articles of Organization for each state.
Click on the state where you desire to File Articles of Organization and follow the process:
What Information Do You Need to File LLC Articles of Organization?
The LLC Filing Requirements for Articles of Organization vary from state to state. However, all states generally require the following information about your company on the articles of organization pdf or online form;
i) Name of your LLC
Your business name must be unique and has not been taken by any other company. Your business name should include LLC, L.L.C, or Limited Liability at the end.
Moreover, your business can not take the name of reserved industries such as insurance, bank, government institution, etc.
Did you know? Many LLC formation services do a business name availability search for you as a part of their formation package.
ii) LLC Location/Address
A mailing address for the principal place of business is required. P.O. box addresses are not permitted in some states.
iii) Description of your LLC Business
A general description or purpose of the LLC formation such as "ABC business will engage in lawful activity," will suffice for some states. Other states require a more specific description of your LLC business.
You may file an amendment in the future to change the purpose of the LLC's business, but this is not mandatory. LLCs offer a good deal of flexibility and can be used for one or more purposes.
iv) Name and Address of a Registered (Statutory Agent)
A registered agent is a person or business you designated to accept the service of lawsuits and other official documents on your LLC's behalf.
All 50 states require LLCs to obtain a registered agent, and some states also need your registered agent to sign a form acknowledging and accepting the position.
Important
While you can be your own registered agent, this may set your home address public. Moreover, if you are conducting your business in multiple states, you may not have a physical address for receiving service of the process.
In such cases, you can hire a professional Registered Agent service to receive your official document on your behalf.
v) Information of Founding Members, Managers, and other officials
The names of LLC members and managers with other important information must be filled in the articles or organization.
vi) LLC Management Structure
LLCs have the flexibility to run its day to day matters through LLC members or hire a manager to do so. Most states require you to mention how your LLC will be managed.
vii) An Effective Start Date
The effective start date is usually the date when your state approves your LLC. However, you may choose a delay of up to 90 days for your effective start date. This 90 days period starts from the day the state approves your articles.
viii) Duration of Formation
LLCs can be indefinite or perpetual!
Indefinite LLCs exist until a specific event or date occurs, while perpetual LLCs exist for an unlimited period. You must designate the dissolution date if you choose to form an indefinite LLC.
LLC Article of Organization Filing Fee
Each state has a one-time filing fee for Articles of Organization, and this amount varies from state to state.
Generally, articles of organization fee ranges from $50 to $500. Click here to know the LLC article of formation fee and other costs to form an LLC in your state.
Business compliance fees are additional to the article's filing fee, and it is charged bi-annually or annually depending upon the state of your LLC operation. Moreover, you may have to pay LLC taxes and LLC annual report fee as well.
The tax amount depend on how your LLC chose to be taxed and the state where you form your LLC.
What Causes Rejection Of Articles of Organization?
Many LLC owners wonder "can my articles of organization be rejected?". The answer is yes. Your LLC articles of organization filing may fail due to multiple reasons, and some of them are;
Errors while filling the forms
Incomplete or illegible paperwork
Inability to pay required fees
Errors in statutory agent information
invalid registered office.
Download Articles of Organization Template PDF(Free)
Click on the image to download the free articles of organization template.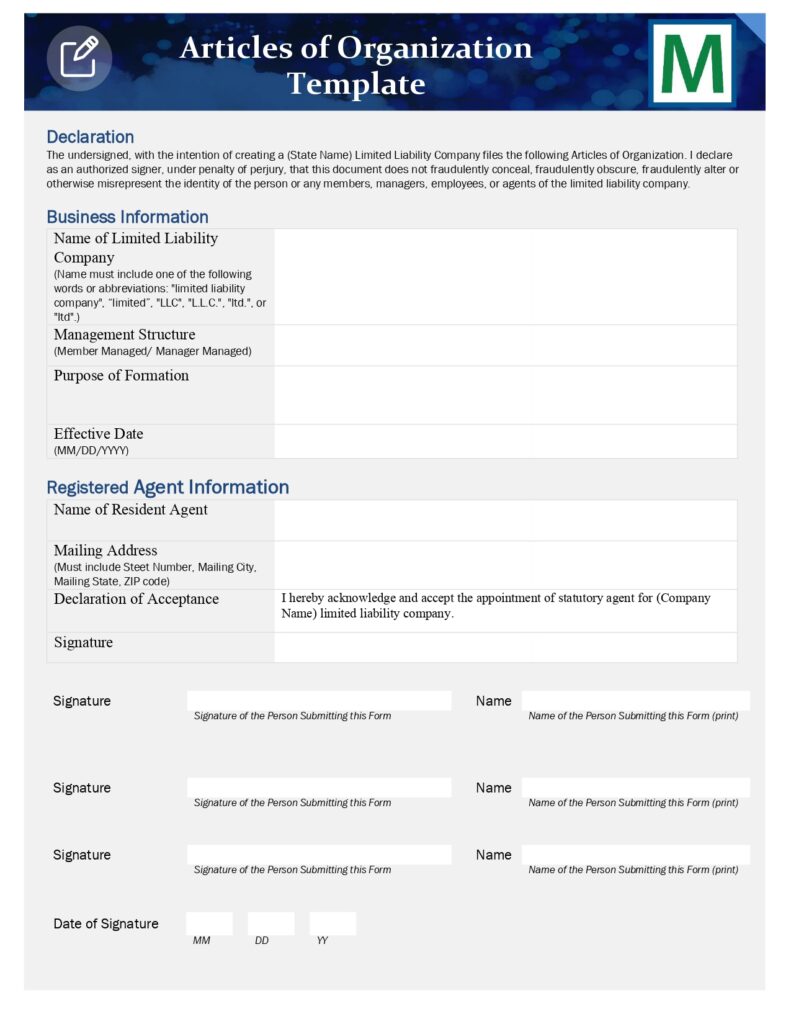 Things To Do After You File Articles Of Organization
To avoid time-wasting, there are a few things you can do while waiting for the approval of your articles of organization by the state.
Draft Your Operating Agreement
Apply for an Employer Identification Number (EIN)
Open a business checking account and apply for a business credit card
Check for the state and local compliance requirements for your business
Obtain a business license if applicable
How Much Time Does the State Take to Approve Your Article of Organization?
The approval time varies from state to state. In some states, it may take several weeks to get a response depending on the number of cases filed in that specific period.
Most states have expedited or rush filing options. Once these articles are approved and filed, your company becomes a legal business entity.
Important
If you want to get articles of organization faster, BetterLegal is one of the known LLC formation service providers that claims to have the fastest LLC formation service. You can go through a detailed review on BetterLegal to decide for yourself.
FAQs on LLC Articles of Organization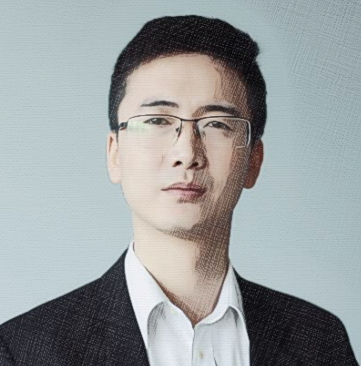 Hi, Wilson here. I'm here to help small business owners and entrepreneurs form an LLC for free and affordable prices in any of the 50 States. In my opinion, Forming an LLC shouldn't be so complicated, and I mean it. Stay with me to see how!
Please note: This page may contain affiliate links. If you buy a product or service through such a link we earn a commission at no additional cost to you.